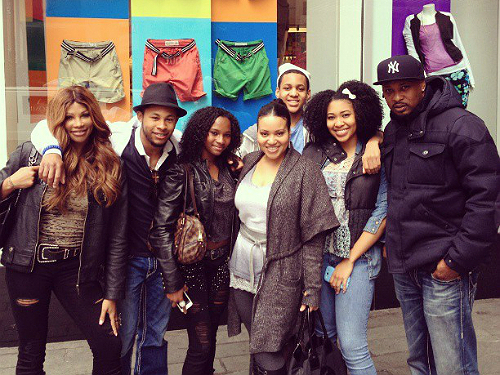 Re-united and it feels so good. The Salt-N-Pepa clan snap a pic together while hanging at MTV. Cheryl smiles wide as her kids Corin and Chapelle surround her with love. Sandy and her kids also get in on the smiles as she hangs with her former partner in singing.
Salt-N-Pepa was one of the premiere groups of the '90's that broke up at the turn of the century after Cheryl and Sandy's lives went in opposite directions. While Cheryl desired to live a more quiet life with her husband and kids in Long Island, Sandy still had high hopes of entertaining the masses and turned to acting to satisfy her thirst for the stage. The 'Salt-N-Pepa Show' trailed the lives of these women years after their breakup and showed the good and bad times of mixing salt with pepper.
Cheryl and her husband Gavin have two kids together while Sandy has daughter Egypt and Tyran.