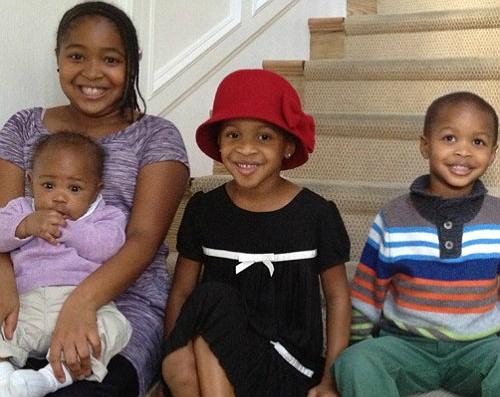 Tina and Teddy Campbell's little ones are camera ready. Laiah, Meelah, Glendon, and Santana smile wide as mom and dad capture an adorable moment. Laiah and Santana are a matching pair in their purple, while Meelah and Glendon let individualism shine through with black and green.
Both Tina and Erica's kids will be featured on season three of 'Mary Mary' as Wetv has agreed to star the Gospel singers in ten more episodes. Erica was delighted to hear of the show's renewal telling media, "We're so excited about the next season as we enter a new phase in our lives and careers. This past year has been both overwhelming and exciting and we were happy to share those moments with our fans. We are grateful to provide viewers with an honest look into who we are and how we handle our differences and we hope to continue to inspire and encourage people through our show in addition to our music."
Erica and Tina have been singing as Gospel duo 'Mary Mary' for more than a decade, and have won multiple awards since their debut in 2000. The sisters were planning to take a break from each other at the end of last season, but shortly went back to work after a few months off.
Tina and Teddy parent five kids together.
Photo: Wetv