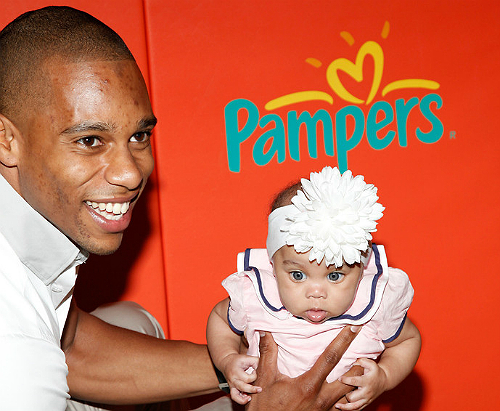 Victor Cruz is cherishing every moment with daughter Kennedy. The New York 'Giants' player recently told the press that he spends more time with his 11-month-old daughter since hearing of the Sandy Hook tragedy and interacting with families of the victims.
"Just cherishing the little moments" said Cruz. "When you visit a family that's going through so much and that's facing so much turmoil in their lives, you meet the family and you see what kind of things they're going through, it just helps you look at life through a different lens. It really changes your view, the way you look at things, a little bit."
Victor visited the family of Jack Pinto, one of the 27 victims of the Sandy Hook school shooting whose funeral took place earlier this week. "I didn't want to go in there and make a speech or anything. I just wanted to go there and spend some time with them; be someone that they can talk to and be someone that they can vent to talk about how much of a fan they are of the team or different times, where they watched the Super Bowl," said the football player.
Pinto was a huge fan of Cruz and was laid to rest in his favorite player's jersey on Tuesday, December 18, 2012. Victor honored the 6-year-old by sporting his name on his cleats and gloves during Sunday's game against the Atlanta 'Falcons.' Kennedy is Cruz and long time girlfriend Elaina Watley's first child together.
Photo: InsiderImages