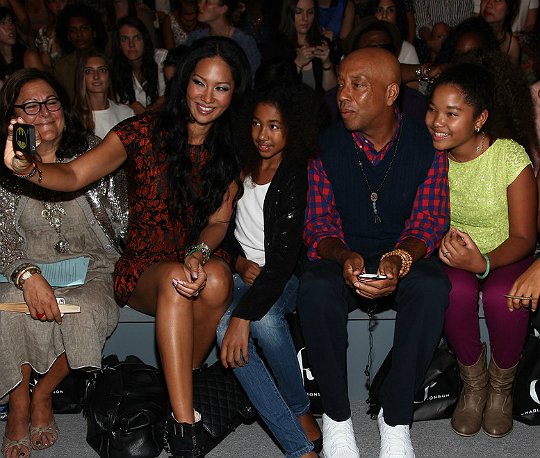 Aoki and Ming Lee Simmons and parents Russell Simmons and Kimora Lee-Simmons have a picture-perfect moment while seated in the front row at the Charlotte Ronson 2013 Spring fashion show on September 7, 2012. Angela Simmons, Russell's niece, was also in attendance.
Russell recently launched his own yoga line called 'Tantris.' The hip-hop mogul felt the need to invest in the workout because of the way it made him feel. "After doing yoga, I feel alive and awakened. I want to give people that feeling or to teach people who want to learn more about yoga. I see yoga studios starting to grow and yoga classes getting more crowded. I see [yoga] brands continuing to grow. I'm doing this because of my passion for yoga not because I'm that kind of business guy," said Simmons.
The entrepreneur recently announced his plans to take up residency in Los Angeles to spend more time with his girls. Ming and Aoki are Russell and fashion mogul Kimora Lee-Simmons' only children together.