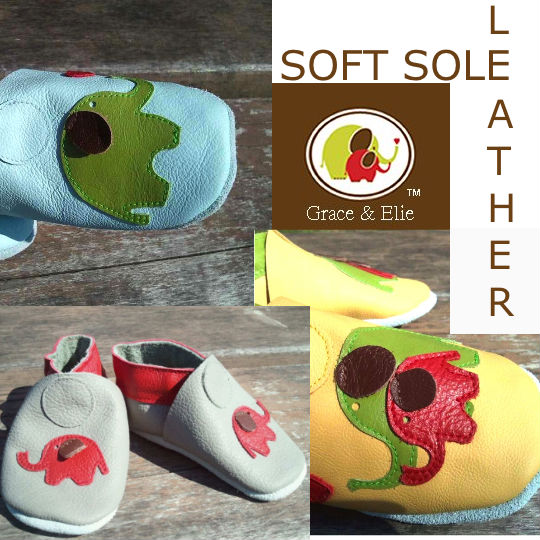 Inspired by Elie and Africa, Grace & Elie features irresistible designs that are fun, unique, and stylishly cool. Each collection presents a global style that weaves in international art and culture resulting in designs that are bold, colorful, and beautifully distinctive. Enter now for your chance to win one pair of Grace & Elie Soft Sole Leather Shoes from the Nile , Sahara , or Signature Grace & Elie Collection.
Grace & Elie Leather Loafers are the perfect first shoes for your global trendsetter. Originally designed for Elie  after a mild  ankle accident, Grace & Elie leather loafers quickly attracted fans, leading us to develop a full line of the shoes using our iconic logo and favorite elephants –Grace & Elie.
You will win your choice of ($26 value):
Baby Boys Pair
Baby Unisex Pair
Baby Girls Pair
Handcrafted from the softest leather,  each shoe is made with breathable leather to keep your trendsetter's feet cool and comfortable. Loafers have comfortable elasticized ankle band to keep shoes on. Soft leather outer layer with suede lining.
Soles are skid resistance suede (prevents baby from slipping and falling). It's breathable so baby feet remains cool
Easy on -Easy off (that's the Grace & Elie philosophy when it comes to babies). Super soft and flexible as well as washable.
Why Soft Sole?  Pediatricians recommend soft sole shoes for natural and healthy foot development.

Giveaway Details. Grace & Elie is offering  one very lucky reader their very own Grace & Elie Leather Loafers. Yes, you can select the style and color of your choice from the Nile, Sahara,  or our Signature Grace & Elie Collection.
This contest will end on April  30th.    A winner will be chosen at random and announced shortly after.  This contest is open to residents of the USA aged 18 years or older. Enter Here for your chance to win!
Congratulations to the winner of the Sweet Honey Child Gift Set Giveaway: Antisha