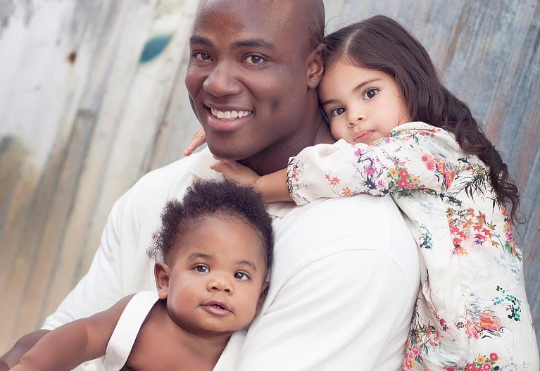 Dallas Cowboys linebacker Demarcus Ware poses with his daughter Marley,3, and the latest addition to the family, DeMarcus Jr., who will celebrate his first birthday this month:
The road to fatherhood has been a difficult journey for DeMarcus, but one that thankfully has a happy ending. His wife Taniqua had three difficult pregnancies, which included the birth and death of a son, Omar, in 2006. But the couple believed that children were definitely in their future and, after much prayer, decided to adopt. Their daughter Marley was born in February 2008. After experiencing this precious gift, DeMarcus and Taniqua would consider adopting again but were still hopeful that one day they will be able to conceive a biological child.

That day came in November 2010 when DeMarcus Jr. was born and became the couples second child in addition to big sister Marley. They currently reside in Fort Worth, TX.(Source)
Demarcus Jr. will turn one on November 20th. Happy Birthday, junior!
Photos:DemarcusWare