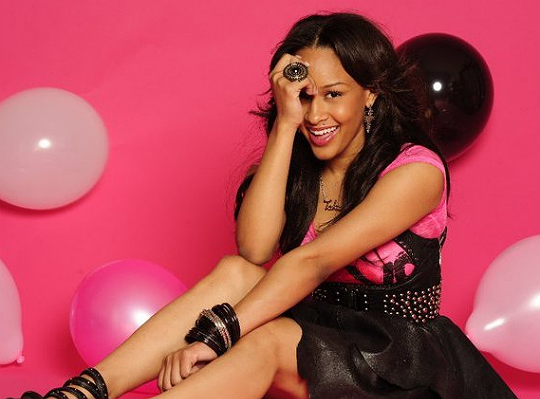 Teen star Chani Christie answers readers' questions on everything from her burgeoning music career to her wardrobe. Check out the answers to your questions now!
1. What are your future plans? Do you wish to go to college?
My career is what's most important to me now that high school is in its final stretch. College isn't completely off the table, but I'm really focused on following my dreams right now. I'm just following my heart.
2. How do your parents feel about you going into the music industry?
They've always been really supportive. When I came to them at 13/14 and told them what I wanted to do, they were enthusiastic and the rest is history. They've taught me a lot about the industry, how I should handle certain situations and now that I'm 18, I'm grabbing the reigns of my career a little more and putting all the knowledge that I've accumulated over these past 5 years to the test.
3. Do you have any younger siblings and if so do they also wish to be entertainers?
I do. I have a younger brother. He does a little acting here and there and he's been in a few movies but I think as he gets older, he'll see that Basketball is really where his heart/head is at – he's very athletic and loves shooting hoops. I don't want to make any decisions for him, but I hope he leans towards sports instead of entertainment right now. When he's of age, and he can handle all that comes with this business, then I'll be more approving of him taking the entertainment route. Whatever he decides though, I'll be behind him 150%.
4. What do you like more? Being on television or singing?
I started out doing commercials and modeling so TV is more comfortable for me – I could do that in front of a thousand people and never break a sweat. With singing, I definitely get really nervous and have little mini anxiety attacks backstage before performing, but when I'm up there – It's nothing like I've ever felt before; Adrenaline takes over and I'm comfortable. I think once my singing career has blossomed more I'll lean more toward television (hosting, guest spots etc) but music is where my attention lies at the moment.
5. Who are your role models?
J. Lo is my number one role model. Watching her start out on In Living Color as a dancer and move on to acting and singing and hosting and all of the things she does.. It's just really inspiring and it's exactly what I want to do. She's a jane of all trades – and that's what I pride myself on being – a woman that can wear 15 different hats and be able to make them all look great. A lot of people say quality over quantity but if you are a professional and you love what you do, you can juggle a couple different things at once and give them all the attention they need. It's about finding a balance and I feel that Jennifer Lopez does that effortlessly.
6. Do they play your music only in California? I only ask because I have never heard your music played in my hometown. I wish you the best with your future plans, you are a pretty young lady.
Thank you. They play my music in a bunch of different places. Seattle has showed me a lot of love – being that that's my hometown – I've heard people say they've heard my music in places like St. Louis and Detroit. I get a lot of love over there – I've never been, but I'd love to go. One of my goals is that by the end of this year I'll have my music played across the country.
7. How do you, at such a young age, stay grounded? How do you handle being the child of well-known people?
I try to keep great, inspiring, uplifting, honest people around me.Growing up with well-known parents I always had a tough time figuring out who wanted to be around me because of who I was and who wanted to be around me because of who my mother and father were. I've been burned several times – I think one of my biggest character flaws is looking for the good in people when the bad is clearly outweighing it. As I got older, I was able to weed out the real from the artificial more and more and now it's like a sixth sense for me. I can tell just from meeting someone – the way the shake my hand, their eye contact etc if they're honest and if I want them in my space. I've been wrong a few times, but not lately. I think with age and experience comes wisdom and knowledge.. If there's one thing I learned while growing up with two high profile parents, it's that Trust is something so sacred that it can't be given away easily. You have to watch the company you keep.
8. Who has influenced you the most?
I've had a lot of different influences in my career thus far. Whether it was an industry exec, a music producer, family, friends etc. I take a little piece of knowledge from everyone I admire and respect and then I use it in my life.
9.How can I encourage my 16 year old to "give back" to our community and do you have any ideas of things he can do?
Have him/her start small. Encourage them to start in their own community. Visit the local homeless shelter – visiting a YOUTH homeless shelter may be a bit of a shock, especially seeing people their own age in such a predicament.. but it can definitely be an eye opener. It will make them realize all that they have and hopefully encourage them not to take it from granted. Contacting local retirement homes and volunteering there over the weekend, working with the city to clean up local streets – anything that involves helping others and making a difference – it's inspiring and it'll change their entire outlook on life. I know it changed mine.
10. I am writing a book, where do I start?
Register the name of the book first and foremost – don't talk to ANYONE about the idea or concept until you do that. Then make a list of all the things you want to write about, make rough draft after rough draft, do lots of research about your topic of choice, how much books about that topic usually run for, and contact a book illustrator. Make sure that you are super involved in the entire process – like I was – and you'll love the final product.
11. Do your parents have a problem with the way you dress? No offense but dress very provocatively at times. And with you being a "young role model" and all that jazz, I feel as though maybe you should cover up sometime. Doesn't mean you can't have a little cleavage, or some thigh showing.
(laughs) So glad I have a chance to address this question. First let me say this, my parents do not [AT ALL] have a problem with the way I dress. They understand that wardrobe, for me, is like a big huge game of dress up. I would never wear anything I felt was not respectable or too provocative. The infamous red dress I wore to the grammy's – my mother and I picked out and my dad seen me to the car when it was time to go. The silver sparkly shorts I wore to the AMA's – my father got me in shape to wear those. I always ask for my family's opinion when getting ready for a red carpet or an event because I value it. Folks will always have an opinion about what I do/wear/say – be it good or bad – but I never, ever, ever said I was perfect. I've learned that I can't please everyone so I just live for me – I do what makes Chantel happy.
12.Hey, I'm 18 and I have been following your career since I saw you on Small Change's song "Don't Be Shy" and I was wondering when are we gonna see another collab with you and them? And when are we going to see your album? And I was wondering if there is any chance that you may work with Skye Townsend in the future if you haven't already?
I don't know when you'll see another collab – I know they're working on their mixtape and I just wrapped/released my album. We've all just been crazy busy and focused on our own careers. We've grown up a lot since DBS and we lose touch from time to time but those are my boys – through whatever. They were there from jump street, when I first got started in this business and Don't Be Shy really gained me a lot of my younger fans/supporters so for that I'm forever thankful. My album is available on iTunes now, it's called "Lyrics & Lipstick" it's fun and it's funky – very girly and it's different. I don't know when Skye and I will work together, we're both really busy, I know she just graduated and she's hard at work on different projects and I'm working on a bunch of stuff so maybe somewhere in the future we'll collab.
13.Which celeb males have you dated? Any celeb crushes?
(smiles) My grandmother taught me that "everybody's business ain't nobodies business" and that's a saying that's stuck with me throughout my entire life. I don't share any aspect of my personal life with the public – I feel like something even as simple as a boyfriend is sacred and it should be kept private. It leaves little room for outside opinion or destruction. As far as celeb crushes, I've been checking out Romeo. (laughs). I think he's yummy and his abs aren't that bad either. (laughs)