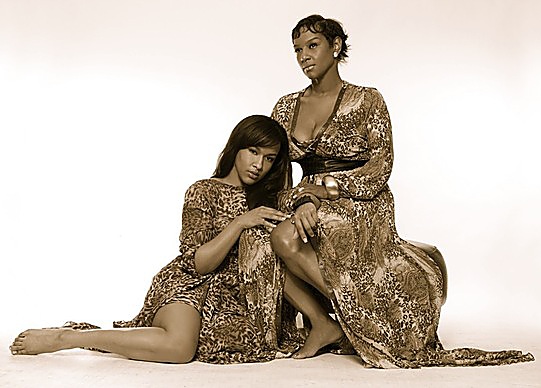 Mother and daughter duo, Jackie and Chantel Christie(dad is Doug Christie),17, recently sat down with Tight Rope magazine to talk about their individual careers, family life, and more. Check out excerpts from the interview now!
Jackie Christie on being a mom: Being a mom means that I nurture, I educate, I protect, I encourage my kids…I think it means giving of yourself in a way that nobody would understand. I have so many girlfriends that didn't have kids and when they had them they would call me and they say, 'Oh my goodness Jackie! Do you know, that this is the GREATEST LOVE I've ever felt.' There is nothing that can compare to being a mom and the way you feel about your children. I'm kind of one of those moms that you know…we grew up with everybody coming to our house and hanging out in our neighborhood. You know, my mom's that way and she opened up her home to everyone and I do the same thing, so I just don't love my kids, I love other kids as well and people always go, 'You're not their mom,' but I'm like 'Okay, but that's what you say'…But I still feel like I need to protect them, encourage and inspire and just help other kids. So, I think that's what being a mom is, doing all of those things.
Chani Christie on what her mom means to her: "You know, it means a lot…There are a lot of people that look up to my mother and like I said, I was born into it…So, as I was raised I was always looking up to her. You know, she was not only a mother, but she was a role model to me and that's why I continue to follow in her footsteps and carry on her legacy, because she is creating one and I instill that in my younger brother as well…You know, we have to carry on the "Christie" title with the upmost respect. So, coming up as a "Christie" especially under my mother…It's been a humbling, exciting, motivational experience and I will carry that on for the rest of my life…The things that I've learned from my mother can't be replaced.
Jackie Christie on being friends with her daughter: It's funny, because I look at Chani as my best friend as well as my daughter…We share our time in a number of different ways…We're both into fashion…We're both into eating good food, so we spend a lot of time…I take her to all of her auditions and all that. I'm very protective of her and sometimes to a fault, but she's still my baby even though she'll be eighteen in June…and she reminds me every week, but we spend our time doing a lot of girlie stuff, we get our nails done…You know I'm always trying to learn like the new things, like Twitter…She teaches me all the hip stuff that's going on…So, we spend our time just doing that and half the time we argue, but that what mother's and daughters do, but it's always cute little arguments…It's things like me wanting her to wear a certain thing or wear her hair a certain way and she says, 'No mom I want to do it this way,' but I love it! I wouldn't trade it for the world…and the same with my older daughter and my son.
Chani Christie on being friends with her mom: Me and my mom definitely are friends. I hear a lot that parents are supposed to stay in a parents place and their not supposed to be their kids' friend…My mother knows how to be a parent, but she also knows how to be a friend and knows how to speak to me about certain things… and that's what I can definitely respect about her…She's in a position of authority just because she's my mother, but knows how to be a friend to me and that's what I LOVE!
MORE INTERVIEW: Click here to read the entire interview now!