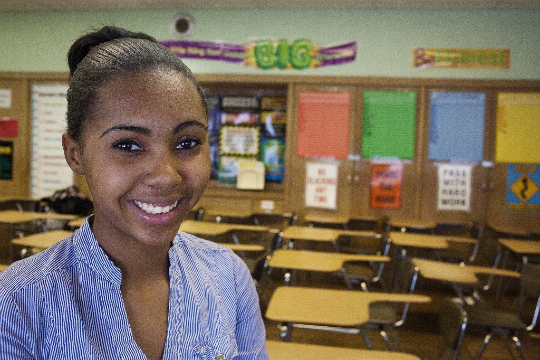 "To change the world, I plan on starting with my community, and through my environmental research, move my community to look at a more sustainable environment," says 16-year-old Andrea Pugh whose science projects have already won her accolades.   In fact, Andrea was recently named one of "25 Young Futurists" by website TheRoot:
Pugh already has a minor planet named after her. That was the second-place prize she earned at the 2010 Intel International Science and Engineering Fair in San Jose. "That's a highlight for me," says Pugh. Her project for the fair looked at ways to infuse nutrients into soil as a better method of preparing it for growing crops. She's not all about science, though. The Saginaw Arts & Sciences Academy high school junior has a concentration in dance at the academy, is vice president of the Saginaw NAACP Youth Council and was tapped as Miss Saginaw County Outstanding Teen for 2010-2011. She hopes to attend Florida A&M, where she will pursue environmental sciences or study to become an investment banker. Via TheRoot
Click here to read more about Andrea and her achievements.