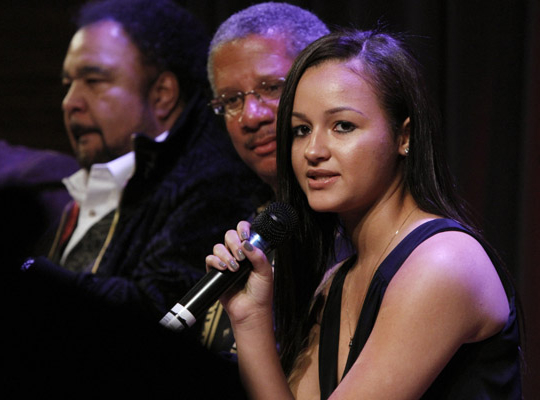 Alia Rose, the daughter of the late singer Teena Marie, speaks onstage during the Teena Marie Tribute at The GRAMMY Museum on February 22, 2011 in Los Angeles, California.
More pictures are below!
Making her debut in 1979, Teena Marie's musical eclecticism took soul music in new directions, and earned her a spot in the hearts of R&B purists. Since her passing in late 2010, fans around the world have expressed the impact of Teena's inspirational career and the importance of her brilliant songwriting. R&B singer, Lalah Hathaway; legendary keyboardist George Duke; singer-songwriter Shanice Wilson; music director Doug Grigsby, R&B writer Scott Galloway and Teena Marie's daughter Alia Rose will discuss the incredible talent and trailblazing career of the acclaimed "Lady Tee." Urban Buzz editor Kevin Fleming will moderate the panel discussion. Special performances by Hathaway and Wilson and other special guests will follow.
Teena Marie passed away on December 26th, 2010, a day after her only daughter Alia's 19th birthday.