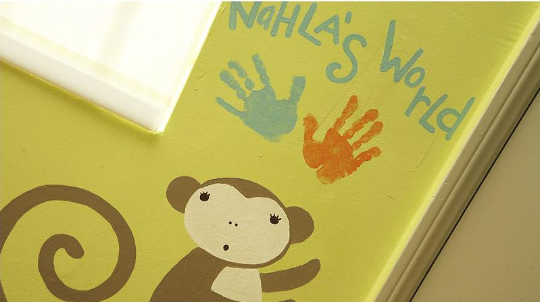 For more than a decade,  Halle Berry has been volunteering at The Jenesse Center, a shelter for abused women and children.  This year, the actress hopes to remodel 15 rooms at the shelter for a project she calls "What A Little Love Can Do."  One such place is Nahla's World, a play center and boutique where domestic violence victims and their kids can escape from their abusive homes.
"I kicked off my project by funding two of the 15 remodels myself," Halle says. "The first apartment is a children's space that I affectionately named NAHLA'S WORLD after my daughter. It's a place where the children can go to obtain new clothing as needed, have parties, play dates, play games, read and have much needed art and psycho therapy. By honoring the children in this way, I believe it lays the foundation for healthy mental development and a belief that they are worthy far beyond their circumstance. The second apartment is for a family in need. I completely gutted the space adding new appliances and replaced the old out dated heating system for more energy efficient use. I would like to use the same basic model for each apartment to keep the consistency throughout the building."
To help with Halle's project or to learn more, head to Jenesse.org.