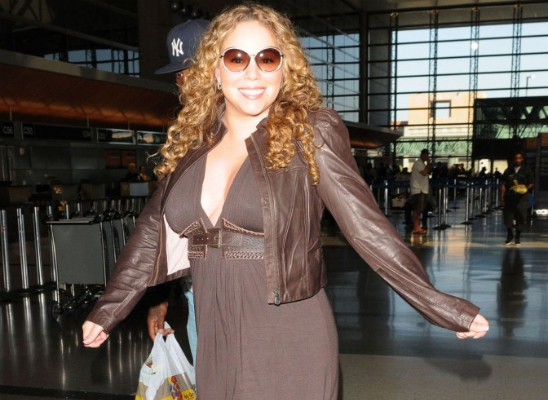 Updated: Mariah is pregnant! Click here to see the big reveal!
Original post: According to rumors, Mariah Carey is set to reveal that she is expecting very soon! Mariah Daily reports:
Last night,  "Access Hollywood" host Billy Bush was spotted coming from Carey's Tribeca building. The word is that "Access" has secured the big Carey interview as part of her promotion for her new Christmas album.

And lo and behold, the story is also that Mariah has finally made a formal announcement about what is more evident than the Empire State Building. She's five or six months pregnant with a bundle of joy.

Calls to Mariah's rep were not returned. But they may be out, shopping for the shower! ….The "Access" interview should run by Monday. Next Tuesday is the release date for "Merry Xmas II You." And maybe January is the release date for the baby. Congrats to Mariah and Nick Cannon, officially!
In related news, actress Thandie Newton may have beaten Mariah to the punch!  While on The View this morning, Thandie may have  accidentally slipped when she said, "I think [Mariah] is pregnant " and she quickly added, "or there is something major going on in her life."   Click here for the little slip! oops!