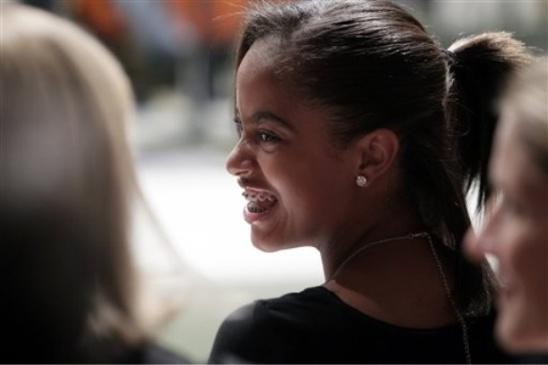 This summer is turning out to be one of firsts for First daughter Malia Obama. For one, The 12-year-old tween is heading to an overnight summer camp for the first time. In addition, Ms. Malia, who is now 5'9″ tall, just got new braces!
So what does Malia's dad, President Obama, think about all the changes that his daughter is undergoing?
Growth Spurt..
"Malia just turned 12," the President said in an interview recently. "She's my baby. Even though she's 5′ 9″, she's still my baby."
Getting Braces..
"She just got braces, which is good cause she looks like a kid. She's starting to look too old for me."
Going Away to Camp..
When asked about his vacation plans recently, President Obama revealed that his older daughter will be spending four weeks at a sleep-away camp:
"We're going to be trying to figure out where we're going to be able to take some time over the course of the summer," Obama said. "But a month of it's going to be taken up with Malia going away for camp, which she's never done before."

Photo: Picture above shows Malia at the White House Music Series event on Monday, July 19, 2010(Ap).