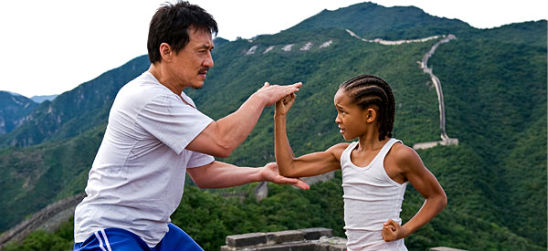 For his role as Dre in the remake of "The Karate Kid", actor Jaden Smith,11, spent several months training in the art of Kung Fu. Jaden first trained for three months in Los Angeles and later spent four months training in Beijing, where the film was shot.
Jaden himself admits that Kung Fu is a lot of work: "[It] helps me with stunts and stuff like that. It's great, and it's fun — but it's very hard work."
Veteran actor Jackie Chan, who acts alongside Jaden in the film, says Jaden's dedication to martial arts puts his own son to shame.
"He put my son to shame! I provided my son with the best martial artists in the world, and he could not be persuaded to try it. In just two months, Jaden had learned so much. He is truly a talented boy."
Recently at the 2010 Kids Choice Awards in Los Angeles, viewers were able to see Jaden Smith in action. Click here if you missed all the action!
Below are Behind-the-scenes candids of Chan and Jaden on set.

Phtos:JackieChan.com