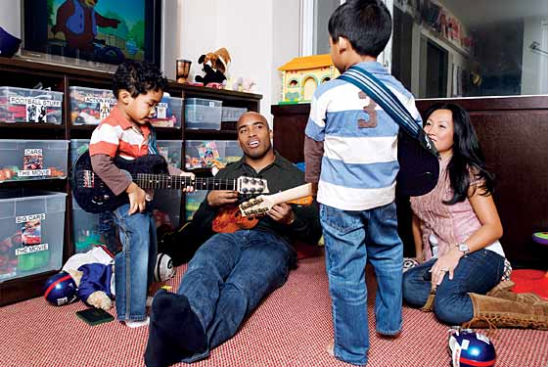 Ex-Giants star Tiki Barber and his soon-to-be ex-wife Ginny are expecting. Though Ginny is 8-months-pregnant with twins, the couple have decided to split.
"After 11 years of marriage, Ginny and I have decided to separate," confirmed Tiki yesterday. "This decision was a painful one, but we are moving forward amicably and will continue to work together to raise our children with the love and dedication they have always known."
According to the NY Post, however, the split may not have been a mutual decision as the  former football star allegedly left his wife for a "23-year-old blonde" intern named Traci Lynn Johnson.
"Ginny, who is expecting twins, found out about the relationship late last year, after the run-around running back moved out of their Upper East Side home. Johnson, a model-thin bombshell, was photographed sitting next to Tiki last month at a Washington, DC, screening of a documentary on Senegal that he hosted for the Travel Channel. Sources believe Johnson also accompanied Tiki to Senegal for the filming late last year, when Ginny was three months pregnant," reports The NY Post.
Ginny and Tiki are also parents to two sons, A.J., 7, and Chason, 6.
Photo:NyMag