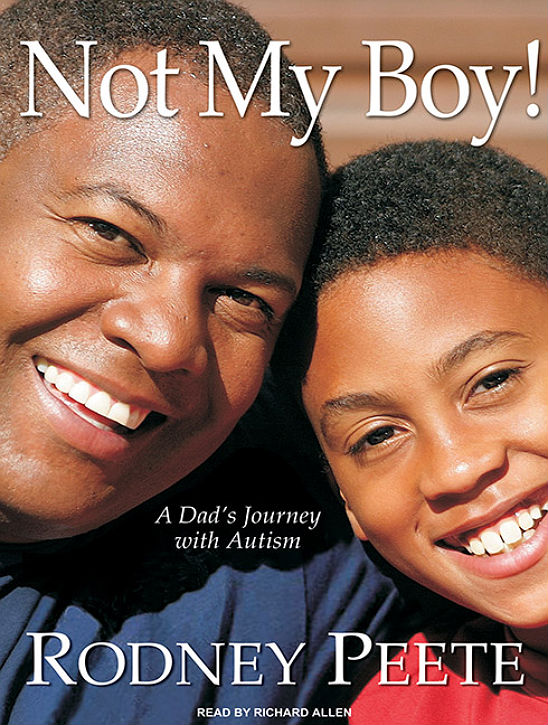 Today(April 1st) marks the first day of Autism Awareness month. Also this month, celebrity parents Holly Robinson Peete and Rodney Peete will release their books My Brother Charlie, and Not My Boy!: A Father, a Son, and One Family's Journey with Autism, respectively. In "Not My Boy!", former NFL quarterback Rodney Peete writes about dealing with his son R.J.'s,12, autism.  The following is an excerpt from the book:
By the time the football season was over, I was happy to be home so I could spend my time being the kind of dad I had always wanted to be. I wanted to be there for the fun stuff as well as for the dirty work of changing diapers. Every day with them held a surprise for me. I felt I could watch them grow and change minute by minute.
R.J. was more than hitting his milestones. He was hitting them early. He was strong and very well coordinated for a little guy. He started to walk before he hit ten months. I couldn't help but think we already had the next in a long line of Peete athletic prodigies.
R.J. was quick mentally too. I would be amazed by the way he could figure things out. As Holly and I moved around the kitchen getting their meals, he watched how we opened the childproof cabinet doors. Around the time he said his first words, at twelve months, he had figured out how to open those doors himself. I knew I was supposed to be stern with him and let him know that this was not allowed. But it was hard to fight back a smile when he looked at me with joy and pride at his latest accomplishment.
He was also into pushing buttons in the car, as many kids are. You press this button and the music turns on. Then you press this button, and the music is different. We'd let him take his toys apart and put them back together. These were just simple toys, but he'd put them back together right. When he was reassembling things, he'd look up at me like, Heh, I got this right? We thought R.J. was a lot like I had been as a kid: social and adventurous, with a little streak of mischief in him.
Shortly before the twins' first birthday, the whole family was invited to spend the weekend with friends of ours who have a beautiful home near Santa Barbara. We were the super-parents, with the porta-crib and everything anyone might need stuffed into the back of the car. The kids were pretty good sleepers at that point, and they slept the same schedule. We settled them down in an upstairs bedroom and fastened a childproof gate at the top of the stairs before heading down to enjoy a glass of wine before dinner with our friends. Just as we were sitting down to dinner, I heard a little shriek from R.J. Grappling hand-over-hand along the side of the archway, he came smiling into the room, ready to join the party.
<a href=" http://today.msnbc.msn.com/id/36120715/ns/today-today_books/#ixzz0jrf2dRAL" target="_blank">Source</a>