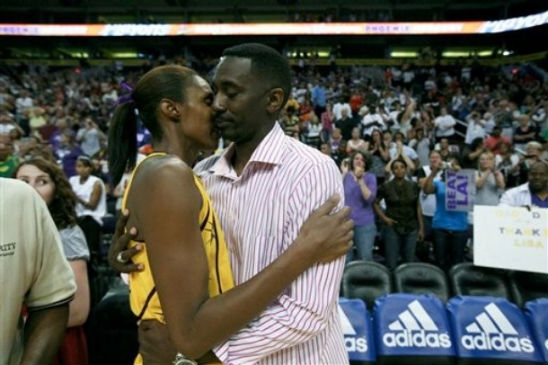 Former WNBA star Lisa Leslie is expecting her second child with her husband Michael Lockwood. The former center for the Los Angeles Sparks is due in early 2010, a source reveals to Blackcelebkids.com.
In September, the three-time WNBA MVP player retired from the league after her 12th season citing that it had become increasingly difficult for her to balance family life with her career.
"It's a balancing act – to get my workouts in, to put meals on the table, to get [daughter] Lauren to her doctor's appointments. Before, I gave basketball 100 percent.  I would go run on the track, go lift weights with the trainer, and around 4:30-5 p.m. I'd go play pick-up with the fellas," Lisa revealed earlier this year.
Leslie and Lockwood, a pilot and former Air Force basketball player, wed in Maui in November 2005. The couple are already parents to two-year-old Lauren Jolie Lockwood.
Photo: In the AP photo above, Lisa and her husband hug after her final game.