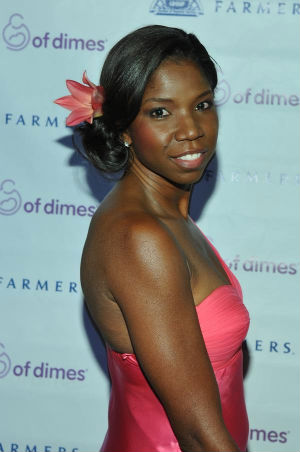 Like many working mothers, Lincoln Heights actress Nicki Micheaux is facing the challenges of balancing motherhood and work. Nicki, who is the mother of a nearly five-year-old daughter and a three-month-old baby, says that being a mom is a challenge.
"Being a mom of two is definitely more challenging. I had a couple of auditions this week and man it was tough. I'm sure I'll get better at this whole thing. Being a mom is a HUGE job. I can't believe we don't get paid or at least free health care or something. And then trying to be a good mom, which to me means cooking them healthy foods not fast food, engaging my toddler with games and crafts not TV…trying to do all that is a whole other level of BUSY!"
Whenever she can, Nicki likes to feed her "nice fat baby" with healthy foods that she makes from vegetables like  organic spinach, red bell peppers, lettuce and tomatoes.
"It's so much healthier, it doesn't have all those preservatives."
Tune in to season 4 of Lincoln Heights on ABC Family, [email protected] p.m.
Mom Tips: Nicki's advice on serving your baby healthy foods:
"It's really easy. You blend up the green beans, put it in an ice cube tray and freeze it, and you can put it in the microwave or in a jar when you go out and it melts on the way."
Souces:MNN,myspace