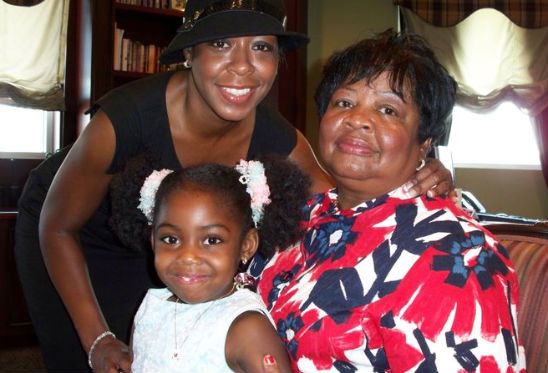 It's the number one question posed by many parents, "Why can't we spank our kids?" Actress Tichina Arnold is no different from many parents as she would like to know why she can't spank her four-year-old daughter Alijah when she  misbehaves. As told by Tichina(very long read but worth it):
I've got to be brutally honest here. I think it's a shame that law enforcement can get away with beating your children and we as parents; CAN'T! I do realize this particular touchy subject matter has been discussed many times but I am still yet awaiting an honest and true answer.
My life as a Hollywood mom goes from one extreme to the next (as you all may have read and will continue to read). As you can see, one day, I am scared to death about losing my daughter to an asthma attack and then a few days later, I want to spank her little behind because she take liberties that have not been given, such as being totally out of control and not paying attention to any of my pleadings. Imagine, now the ADULT has been forced to beg the CHILD to obey. Isn't motherhood CRAZY?!
Okay let me tell you what happened; The hard drive on my laptop crashed the other night, and I must say, I can't THINK correctly without having access to my computer. It has all of my music, videos and pictures of my daughter, family and friends… Ok, Ok, the part of this story that is missing is that I, (like a dummy) had not backed up my hard drive in 123 DAYS! So I stood the chance of losing all of those precious valuables and memories of my daughter. I am a gadget QUEEN. I love playing with all of the latest inventions that technology has to offer. So when my laptop crashed, I temporarily lost my mind. To my surprise, I found an Apple store that stays open 24 hours. That particular evening, my mom so happened to be at church, so I had Alijah all to myself and had to take her with me. Now I am fully aware of how Alijah performs when it gets late and if she gets too tired unfortunately, since this was an emergency I did not have an appointment at Apple, so I had to be put on a 2 hour waiting list. I was desperate. I took Alijah for a walk to get something to eat so that I could avoid her cutting up on me. Well to my dismay, my precautionary measures did NOT circumvent the inevitable. Alijah cut up, turned it out and tore it up so bad in that store. She went far beyond the call of badness. I just wanted to run out of the Apple store and abort my mission but the fear of me losing all of the valuables on my hard drive was stronger; so I stayed.
Now that Alijah is taller, smarter and extremely articulate, some of her antics are not cute anymore…at least not to me. I will admit, when she does something funny, I crack the hell up. We both LOVE to laugh and make each other laugh as well. But that night she knew she'd given one of her best performances she was totally out of control and had a full fledged audience with all eyes on her…Does anybody feel me?! I must admit, for her age, Alijah is extremely funny, witty, outgoing, expressive, creative and smart as hell. With the right encouragement and support, she is going to reach heights I can't even imagine but I am in total anticipation of the incredible strides that I know she will make. That is why I am trying to teach her how to deal with her emotions and reactions to real life situations, so that she can become a responsible adult. I do not want her to believe that she can get away with whatever she wants. I am teaching her a little word called "consequence". Our children quickly get accustomed to positive consequences, but these days rarely experience the negative ones.
When I was growing up, my experience of a negative consequence was a SPANKING or some of you may call it a good old "beating". My mom would never embarrass me, but she would give me that "evil eye" and I KNEW what was coming next…I learned how important it was to respect the "evil eye." My aunt once told me she gave Alijah the evil eye and Alijah gave it right back to her. Now don't misunderstand me, I do not think that ALL children need physical chastisement, but I do believe that every now and then that some kids DO. That's including my child. I tried the "time out" thing with Alijah, and it DID NOT WORK. She was way too smart for the time out thing. I have a little trick that I do in order to control Alijah in public. I will share it with you at a later time if you are interested!
Unfortunately, some adults have abused children in unthinkable ways. That is WRONG! I do not in any way condone the abuse of children in any shape, form or manner. I do realize that times have drastically changed. We have children raising children. No longer do we have old and wise people challenging us to correct our bad ways. Instead we have young adults disrespecting, robbing and beating our seniors.
I always tell my family and friends, if you see Alijah doing something wrong, CORRECT her by telling her what she has done wrong. Don't just sit back and allow her to be disrespectful otherwise she will never learn. We as parents should not feel ashamed, embarrassed or scared about going to JAIL for correcting our children. Alijah is MINE and I do not want her to suffer because I did not do my job as a parent. I'd rather fix the problem now instead of the cruel world doing it for me later.
I watched helplessly, while my housekeeper of 11 years, lost her son to a gang. I knew that little boy since he was three. They were and still are a part of my family. To be 14 years old and shot in the head in front of your house is something I NEVER want ANY mother to experience. I remember the day she cried to me that she and her husband were losing control of their son. I remember the day she came to work happy because she convinced her son to stay in the house and away from the gang, but not more that 24 hrs later, a few members of the gang walked in her house and TOOK her son. He was dead 4 days later.
We are living in evil times people. Things are getting worse. Some of these young people have NO FEAR. I do realize some people do things because they were abused and beaten. It is a vicious cycle. Where is that careful balance of love and chastisement?
It starts with US. What can we do about that?