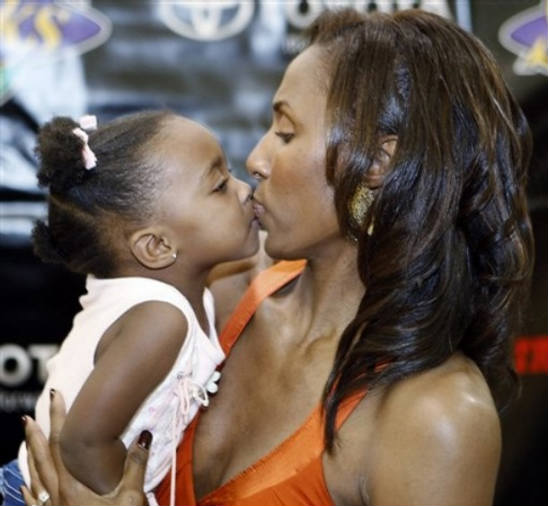 WNBA star Lisa Leslie is set to retire from the league after her 12th season with the Los Angeles Sparks as it has become increasingly difficult for her to balance family life with her career.
"It's a balancing act – to get my workouts in, to put meals on the table, to get Lauren to her doctor's appointments," she said.
"Before, I gave basketball 100 percent," Lisa adds. "I would go run on the track, go lift weights with the trainer, and around 4:30-5 p.m. I'd go play pick-up with the fellas."
Though she is no longer able to give "100 percent" to basketball because of her daughter Lauren, Lisa admits that her daughter is worth the sacrifice.
"In the morning when I wake up, or when she wakes me up, she's so happy," Leslie said. "She has to tell me everything that's in the room – 'Hi, Mommy! That's a pillow, that's a doorknob' – I love that."
Since this is her last year before she retires, Lisa will make another sacrifice, this time she will sacrifice bringing her daughter on team-road trips with her.
"I played last season, but I wasn't all there," Leslie said. "I'm going to try and see if it balances out where I can leave [Lauren]. It's my last season, and I may want to make that sacrifice."
The Sparks first home game is June 6, against the defending WNBA champion Detroit Shock.
Source for original print