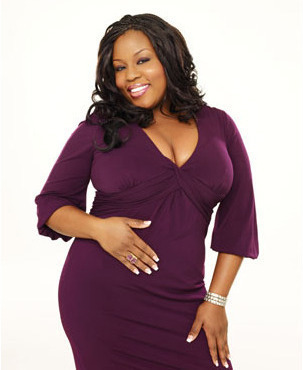 Former American Idol contestant LaKisha Jones has revealed the sex of her unborn child. She tells PopEater that she is due to have yet another girl in August.
"I'm having another little girl in August. So of course that's going to take some time for me to get back on track and get things going. Once I release my load then I can get on the road and be back in full force."
This will be the second daughter for Lakisha. Lakisha's first daughter Brionne,6, is looking forward to having a little sister; Brionne is so "excited" that often times she talks to her mommy's belly, even when her mom is away: " So our thing is … I put the phone on my stomach and she's like "Oh hi Avie" because the baby's name is going to be Ava and she's like "I'll see you when … you come back with mommy," Lakisha says.
LaKisha, who finished fourth on season 6 of American Idol , has  a new album out titled So Glad I'm Me.
Lakisha says she has two favorite songs on her new album are " 'Beautiful Girls' about my daughter … Brionne … that song is dedicated to her. The other song would be 'Free.' It's about living life and being who you are. "