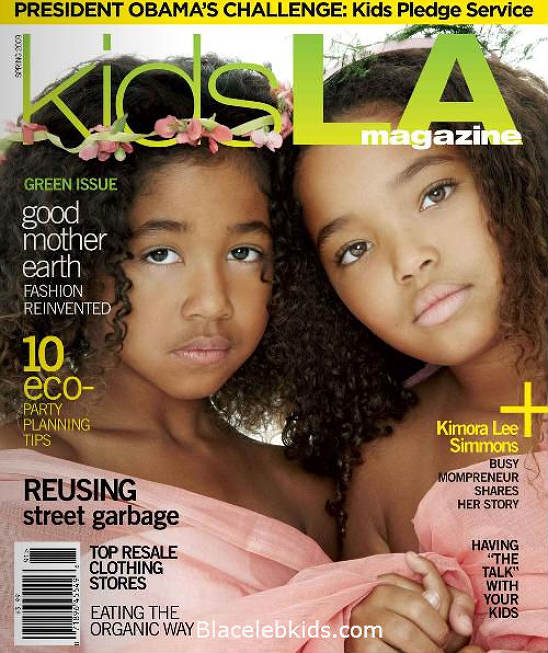 Ming,9, and Aoki,6, along with their mother Kimora Lee Simmons, are featured on the cover of LAKids magazine for their spring issue. In the issue, Kimora talks about her mothering style and how her life is a juggling act.
Read the excerpts below taken from KidsLa magazine:
Kimora's Mothering Style: Kimora is dedicated and directly involved in her kids' schools. She regularly volunteers and assists in the classroom and helps with the PTA. Yet she feels she is a disciplined mom, by setting boundaries, schedules, and expectations for her kids, who know she loves them by doing so. Kimora has been taken aback lately since her 6-year-old has declared her "love" for a classmate, a very unexpected experience. But Kimora does look forward to her daughters getting older. She feels that as a parent you give them the love and intelligence they need to handle those peer pressure moments. Kimora is both "crying and hopeful" when thinking about her girls growing up.

Juggling Act:Kimora is a divorced, single-mom who manages to keep a stable, normal family life. She keeps a good relationship with her ex-husband, Russell Simmons, plus her partner, Djimon Hounsou, is a big help and an additional father figure to her kids. They all know that the kids come first, with love and support from all involved, making it all work. The key is balance, and getting lots of help from family and friends, since she only keeps one babysitter handy. Kimora stays hands on with all their activities, such as dance, karate, piano, and tennis. Being a bi-coastal family, she tries not to be away for more than a few nights at a time — she aims not to miss any loose teeth.

Business Hat: Kimora's kids are very fashion oriented and are a big influence in her business. She is inspired by what they like, and they do tend to be very opinionated, along with their friends. But all the kids make her feel youthful and they give her a fresh approach and attitude.

Mommy Hat:The Simmons household doesn't watch too much TV, mostly going out to movies. They do like to watch National Geographic, the Learning Channel, travel shows and documentaries. The girls like the Jonas Brothers, which gets Kimora good points with the girls lately since she now has an in with them. They were similarly impressed when she created a Barbie Doll and had a photo taken with Winnie the Pooh. The girls like to read to Kimora, favorite books are from Dr. Seuss, with their subtle lessons, and The Giving Tree. They also like to explore their imagination by writing their own stories and having performances.
Source:KidsLamagazine/Dani Brubaker photography
{Thanks, Blue!)