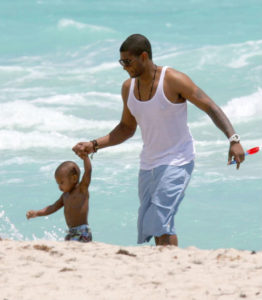 Singer Usher wants what most parents want for their kids: for their child to be a great example in this world.
"'Be Great' starts when you're an infant," he says. "It's what every parent wants of their child. It's what my mom wanted of me, and what I want for my kids."
As for his son Usher Raymond V, 17 months, who has the singer's name and "personality", Usher doesn't necessarily hope for him to be a singer.
"I hope whatever he chooses to do in his life, he goes after it with passion and dedication."
For Usher, the message of "being great"  or "iconic" doesn't stop at home. The singer is hoping to carry the message of "being great" to other boys and girls.
"It's those around us who motivate us to be iconic. Places like the Boys & Girls Club helped me be that icon I am today. 'Be Iconic' is not just about status, it's about what you choose to care about. What you give your time, attention and focus to."
Meanwhile, Usher wishes Father's Day were celebrated like Mother's Day: "I mean, really … who's opening doors for me?" he jokes. "But I will be spending it with my kids and being around them always makes me happy."
In all, Usher has two sons with his wife Tameka Foster.