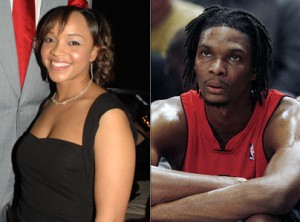 PICTURED:Chris Bosh and Allison(picture source:Star)
NBA player Chris Bosh is being accused of neing a dead- deat dad to his four-month-old daughter Trinity Meyers Mathis. According to court documents, Chris has only seen his daughter twice, both times in a hotel room.
Via The Star:  Chris Bosh, the face of Toronto's struggling NBA franchise, is being cast in U.S. court documents as a deadbeat father who broke up with his girlfriend when she was seven months pregnant, leaving her destitute and without medical care even as she fell ill.
The court documents, filed in Maryland on behalf of Bosh's former live-in girlfriend, Allison Mathis, who is seeking child support and sole custody, allege that in early 2008 Mathis and Bosh planned to get married. According to the filings, whose allegations have been denied by Bosh, they made a consensual decision to have a child together and Bosh, who is earning a salary of $14.4 million (U.S.) this season, paid for a fertility drug to hasten the process.
Not long after Mathis conceived – at last year's NBA all-star weekend in New Orleans, according to a sworn affidavit signed by Mathis – the couple moved into a jointly owned $1.6 million home in Frisco, Tex.
But upon Bosh's return from the Beijing Olympics in August of last year, the player signalled his intention to, according to the complaint, "move on" from the relationship. With Mathis seven months pregnant it is alleged Bosh stopped supporting her financially and attempted to have her removed from their home.