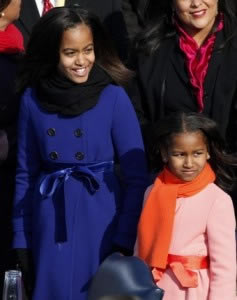 First daughters Sasha,7, and Malia Obama,10, "are adapting remarkably" to life in the White House. According to President Barack Obama, his two girls "seem to be having fun."  When asked in a 60 minutes interview whether or not his daughters were fairing well in the White House, the president replied,
"They are adapting remarkably, in ways that I just would not have expected."
He adds, "What's interesting is actually how unimpressed they are with it," the president added, laughing. "I mean they — they're going to school. They are unchanged. They're the same sweet, engaging, happy, unpretentious kids that they were. … They do seem to be having fun."
Malia and Sasha are on spring break and are spending time with their mother at Camp David while the President attends to important matters.