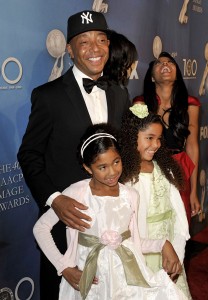 According to court records filed on Thursday(January 26th), Hip-Hop mogul Russell Simmons has agreed to pay $40,000 a month in child support, $20,000 each for his daughters Ming,9, and Aoki,6, until they turn 19.   Per the agreement, Kimora Lee Simmons, the mother of Russell's two girls, has sole custody of her daughters and requests that "when the children are in [Russell's] custody, they shall be accompanied at all times by a nanny and security person," the filing reads.
People reports that the hip-hop mogul has also agreed  to provide a new car worth at least $60,000, every three years until the children turn 16.
Russell was granted visitation rights, which gives him time with the girls every eighth week during the school year and on certain holidays.
 The couple separated in March 2006 and two years later, Kimora Lee Simmons filed for divorce.