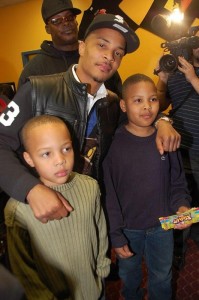 Rapper T.I. a.k.a Clifford Harris, has been ordered to pay more child support to the mother of his two sons, Lashon Dixon. 
On Wednesday(February 25th, 2009), the Superior Court judge ordered the rapper to increase payment from just over $3,000 to $5,000 a month to LaShon.  In addition, the rapper is required to pay half of the boys extracurricular activities and all their medical expenses. He isn't required, however, to pay for Domani,7, and Messiah,9, to attend Private school.
Lashon and T.I. have joint custody of the boys; Dixon has primary physical custody and T.I. gets visitation every other weekend. Lashon is said to be "very grateful" for the judge's decision and called it "a complete victory."
T.I. has six children in all.
WRCBTV(for original print)/Freddy O Pic