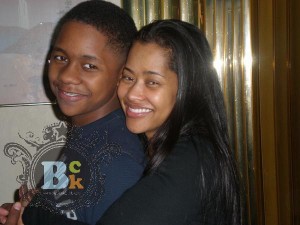 Real Housewives of Atlanta" housewife Lisa Wu Hartwell wants full custody of her sons Jordan Sweat(pictured), age 14 and Justin Sweat, age 11, the children she had with ex-husband and R&B singer Keith Sweat. Last week, Lisa asked the court to "modify" current custody ruling; she asked that the court award her full custody: "The best interest of the minor children will be served by modifying the current custody and visitation provisions to make Mother the primary physical condition of the minor children," according to the court papers filed with the Superior Court of Fulton County. "Since the time of the Divorce Decree, Mother has remarried, owns a successful business and will provide a stable, loving, and nurturing environment in which she can raise the minor children."
Lisa is seeking "primary physical custody and joint legal custody with final decision-making on all issues regarding the minor children." She will "reasonably engage Father in good faith discussions before any final decisions are made concerning the children's welfare." If given primary custody, Lisa requests child support from Keith Sweat as well.
In 2003,  Keith Sweat was awarded  primary custody of Jordan and Justin.  According to the final divorce documents, Sweat and Wu Hartwell married in 1992 and had  an "extremely tumultuous relationship." Although it was discovered that  "there [was] evidence that Father has been violent towards Mother, the judge felt that Keith deserved custody of the kids because at the time, the children "lacked structure in their lives, due in substantial part to Mother's numerous business ventures and frequent trips out of town… Mother has a history of spending money on herself excessively rather than providing for the children… There was some evidence at trial that Mother implicitly participated in robbing Father in the presence of the children. She also took money from Father prior to the initiation of this matter. This behavior causes the Court to question Mother's maturity and judgment."
The judge added,  "Father is capable of providing a stable, secure home environment for the boys where their care is not delegated to random third parties," the judge wrote.
Lisu is now married to former NFLer Ed Hartwell. They have one son together named EJ.
Source(for orginal print)