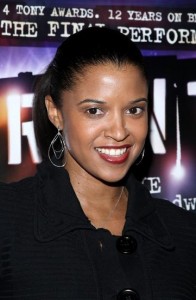 Actress Elise Goldsberry, former Evangeline Williamson on the daytime soap One Life to Live, is six months pregnant.  She is reportedly expecting a baby boy, her first child with husband Alexis Johnson, later this spring.  In 2007, Renee spoke to Blackvoices.com about trying to get pregnant after her very public miscarriage in 2005: 
"We are still trying, shared Goldsberry. And trying is always fun! We really very much want to have a family, a big family that will include hopefully birth children and adopted children. I did go through a very public miscarriage and it's always hard to go through any kind of grieving publicly."
Besides starring on the daytime drama "One Live To Live", Renee has starred in several Broadway plays including playing the role of Nala in the production of Disney's The Lion King in 2003 and now Mimi in .
See Pictures of a pregnant Elise now at the Rent DVD release party on February 2nd, 2009.