The upcoming life-action version of The Little Mermaid is perhaps one of Disney's most anticipated movies of the year. With Halle Bailey at the helm, making history as Ariel, she has been a light for many young Black girls who now see themselves represented on-screen as a Disney princess. Recently, in an exclusive interview with ET Online, Bailey admits that this amazing role has not only been a positive for millions of little girls, it has also been a positive experience for Bailey, helping her to heal.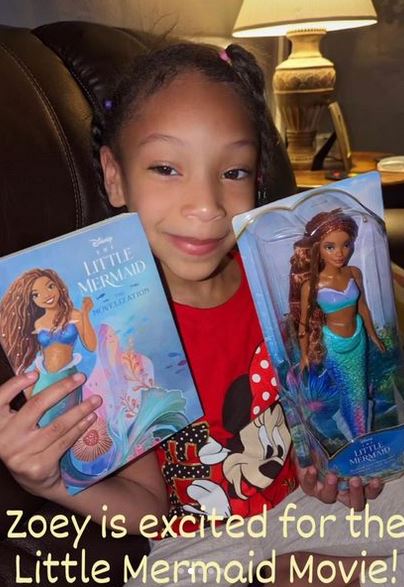 "It's been such a beautiful moment for me to be able to see the reactions of the babies — it makes me just emotionally overwhelmed honestly and I cry as soon as I watch them," Bailey admits. "I think of the little girl that's still in me, honestly, and it heals that girl inside of me to watch them feel like they have representation and someone to look to, to know that they deserve to be in those places too. [It's] so important. It just makes me cry anytime I see any of those videos."
Although Bailey is the first Black Ariel in the Disney remake, the 23-year-old isn't the only, although there have been few, Black Disney Princess. Tho help her perfect her role as Ariel, Bailey looked to she looked to two role models, Brandy, (who portrayed Cinderella), and Anika Noni Rose (who portrayed Tiana), to give her inspiration.
"I loved Brandy as Cinderella; she was so amazing, such a role model and inspiration and a really big kind of studying point for me as I was taking on Ariel," Bailey shared in her interview with the entertainment news outlet. "I just watched how amazing she was in that role and how comfortable she was in her skin and how impactful to audiences and little girls like me who watched it."
She continued, "And Anika Noni Rose, who's just outstanding. I've had the chance to meet her and we got to sing [The Princess and the Frog's] song together, "Almost There" for [2022's Disney Family Singalong] with my sister. She was always so kind! But there are these beautiful Black women pioneers who've done this before and been there for me to be able to say, 'OK, I can do this.'"
Of course, by now, Bailey has seen the movie several times over with screenings and premieres. Yet, it was the first time that she saw the movie, alone, that she had the best reaction. She could not "stop crying for the first 20 minutes."
"I was like jaw dropped and just tears [were] nonstop flowing because, you know, I consider myself a musician and singer first. I had never seen myself on this big screen before, so it's like all of these things and emotions," she said. "[Like,] 'Wow, that's me,' and, 'Oh, that's a little cringe that moment there.' And then also like, 'That's really me. I'm proud of myself.' It was just a really cool experience."
Fans don't have to wait much longer! The Little Mermaid will hit theaters next week, May 26th!
Photo Credit(s)/Featured Image: Getty Images