Daymond John, founder of FUBU, and one of the long-standing Sharks on ABC's Shark Tank, has given budding entrepreneur's not only financial help in the form of investments, but priceless advice on how to achieve success as well. Now, John is lending his expertise to help another audience understand and embrace financial literacy with a new his children's book, Little Daymond Learns to Earn.
"I've been on a show where I watch people live their dreams and fight for their dreams, but I also watch a whole bunch of other people get into debt because they don't have financial intelligence," John said in a recent interview. "And it really hit me—our kids are not taught financial intelligence in school."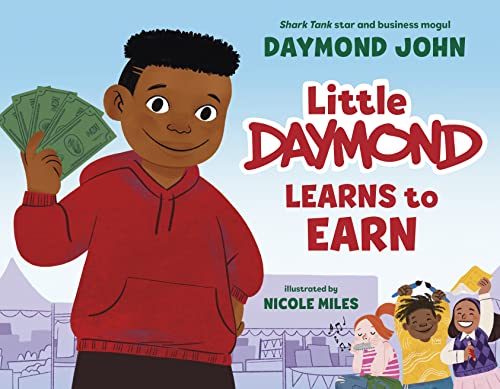 Little Daymond Learns to Earn is geared towards readers aged four-to-eight-years old. And of course, the story is something that definitely resonates with these little readers.
In Little Daymond Learns to Earn, the main character joins forces with his friends to start a business to save enough money for a music poster he wants. Little Daymond and his friends work together using their different strengths to make the business successful. By following along, families are introduced to money lessons like saving, spending, and budgeting.
John says of the book that, "It is a very simple, soluble way for parents and kids to understand how money works."
However, John said in his interview that he wouldn't have necessarily added "author" to his resume if it hadn't been for his seven-year-old daughter, Minka.
According to the Council for Economic Education, less than half of the states in the US require finance classes for students. Which, of course, is extremely unfortunate as it is important to build a solid foundation of financial literacy because children will indeed turn into adults and will have to manage things like credit, paying for college, buying a home, paying taxes/bills, etc.
"If we don't come from generational wealth, then grandma and grandpa couldn't tell us what to do, so we have to seek this knowledge elsewhere," John said."
He continued, "We need to change the dialogue, and why am I the one to do it? I'm the only African American person on television, self-made, for the last 14 years that has nothing to do with music, sports, or politics."
John took a modest budget of $40 and turned it into a $6 billion fashion empire. We definitely think that he has something to teach us all.
Photo Credit(s)/Featured Images: Daymond John Instagram; Amazon.com