We have all been waiting for Disney to give us a teaser of what to expect from the upcoming series, Saturdays. Well, the wait is over as the entertainment giant has just dropped a new trailer for Marsai Martin's latest project.
If you haven't heard about what to expect from the upcoming series, here is the scoop according to Deadline.
Saturdays centers on Paris Johnson, played by Danielle Jalade (Yes Day), who considers roller skating to be part of her soul – she breathes it in and makes it a lifestyle. She lives for the weekends because that's when she gets to go to her sanctuary, the neon-lit Saturdays, a seemingly magical wood floor roller-rink where the impossible often manifests. In this wondrous place, Paris can hang with her best friends (the We-B-Girlz skate crew), choreograph exhilarating routines on wheels, banter with her rivals, navigate life with her DJ brother London and work on becoming a Golden – a member of Saturday's skating elite, chosen by the mystical owner of the rink, The Duchess.
At the helm of the project, is Black-ish alum, Marsai Martin, serving as executive producer. Back in July of 2021, the actress spoke exclusively to J-14, sharing her excitement for the upcoming series.
"I'm so excited for people to see it. It's basically about a girl named Paris and her family, and it's just a really fun skating show. I feel like skating is just so underrated in its own way. … I feel like it's just its own aesthetic on its own. I can't wait for you guys to see that."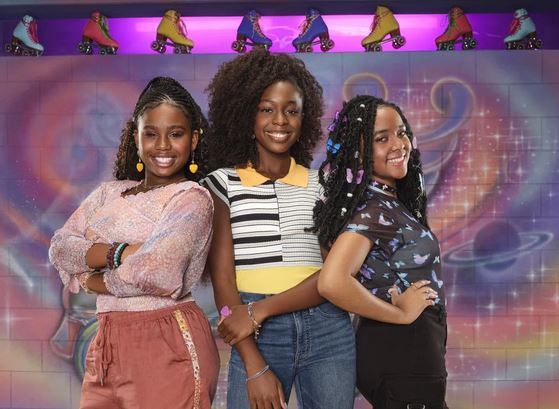 Martin continued, "You know, for me, I'm always down to change the narrative of everyone. This is definitely a unique type of show and I definitely think it's needed for, not only everyone, but for our Black girls out there that truly don't feel the confidence that they need to feel. So, this definitely is a show to bring them that."
The series showcases a myriad of dynamic talent including: Danielle Jalade as Paris Johnson, Daria Johns as Simone Samson, Golden Brooks as Deb Johnson, Omar Gooding as Cal Johnson, Jermaine Harris as London Johnson, Peyton Basnight as Ari, and Tim Johnson Jr. as Derek "D-Rok."
Finally, we are almost there! Saturdays will air on Disney March 24th and on Disney+ the next day. Make sure to tune-in!
Photo Credit(s)/Featured Image: Marsai Martin Instagram/Disney