Nick Cannon's girlfriend, Bre Tiesi, is ready to give an inside look at her gender reveal party. The model uploaded video footage from her celebration on Monday (Jan. 31).
Bre had the glow as she mingled at her and Nick's gender reveal party. Family and friends surrounded the expectant model whose bash was filled with decorations fit for spring. White was the main color at the party. Bre and Nick added pastel colors to make the atmosphere complete.
Some speculated that Bre was expecting a girl. Others were sure the model would need to prepare for the arrival of a boy. Those who guessed Nick and Bre's expectancy of a son were correct.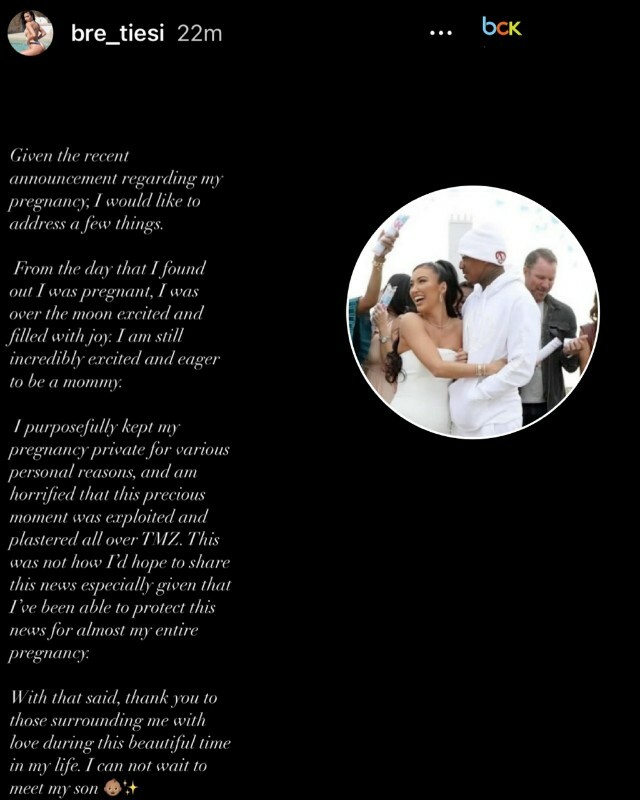 "My son," Bre wrote to her unborn child. "Been keeping you safe in my belly from this world as long as I could," the model said. "You are surrounded by so much love," Bre wrote to her baby. "Mommy and daddy can't wait to meet you."
Bre and Nick's little one will make him a father for the eighth time. Nick Cannon confirmed his expectancy of another child during Monday's episode of his talk show.
"I love children. I love my children," Nick told his audience. "I want to be the best father I can possibly be but I'm not counting out never having more children," the entertainer added.
It was just a few months ago that Nick Cannon hinted at a vow to celibacy. The celebrity father told his supporters on Monday that such a perspective came after Bre revealed she was pregnant.
"This is why I was like, 'Yo! I gotta get my life under control,'" Nick told his talk show audience. "I felt like I was out of control," the celebrity father said. "Celibacy did help me through the journey of getting one with myself, being able to deal with this, so now everybody knows why I was actually being celibate."
Nick Cannon has two kids, Monroe and Moroccan, with his ex-wife, Mariah Carey. The celebrity father also has two kids, Golden and Powerful, with beauty queen Brittany Bell. Nick's twins, Zion and Zillion, with businesswoman Abby De La Rosa were born days before the celebrity father's son, Zen, with Alyssa Scott.
Bre and Nick are expecting their son to arrive in the coming months.
Photo: Bre Tiesi/Instagram