Academy Award-winning actress Halle Berry is one of the most recognized actresses in the world. In addition to being an actress, advocate, and now director, Berry is an amazing mom first. Recently, Berry sat down with AARP Magazine for an exclusive interview in which she says that her son and her daughter are her "greatest teachers".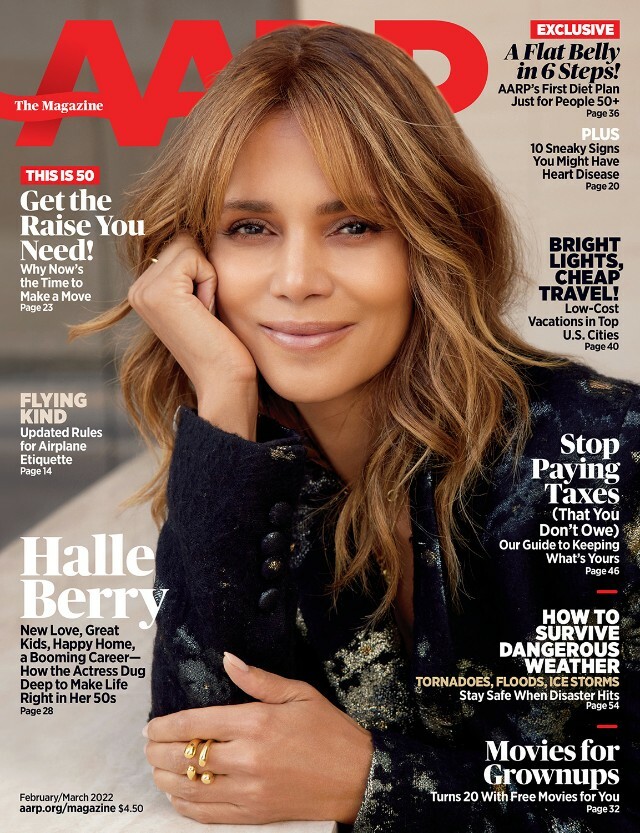 Q. You have two kids, Nahla, 13 [by her ex-boyfriend, model Gabriel Aubry], and Maceo, 8 [by her ex-husband, actor Olivier Martinez]. How has motherhood changed you?
My kids have been my greatest teachers. Before the world silences them, they're truth tellers. And if as adults we're present and we listen to what they're saying, we can learn a lot about ourselves and about the world we live in from their perspective. So I listen to them a lot, and I learn. Even when they argue, when they fight, I learn so much from what they know and what they don't know. My daughter, Nahla, was born the year Obama was elected president, so mostly she's known a person of color in that higher position. As a Black woman I was very proud, of course, to see Kamala Harris become vice president. When I tell my daughter there was a time when I never thought I would see that, she's like, "What? What do you mean? We've always had Barack Obama." I say, "No, you've always had Barack Obama."
The Bruised director went on to talk about her relationship with musician, Van Hunt in the interview. She told the magazine that her son Maceo definitely approves of the relationship as he performed his own little commitment ceremony for the pair.
"My son, Maceo, of his own volition did this little commitment ceremony for us in the back seat of the car. I think he finally sees me happy, and it's infectious. It was his way of saying, This is good. I like this. This makes me happy."
She continued saying that, "It was a very real moment for all of us. I teared up, Van was fighting back tears. Even Maceo knew he'd said something poignant. It meant a lot to us. I have two children with two different fathers. Van has a son. As a mom living this modern, blended family, all I care about is that my kids are OK with the decisions I'm making."
Berry also shared in her exclusive that her relationship with Van Hunt started differently than any other in her past.
"I have this new amazing love in my life [musician Van Hunt]. Because of COVID, we spent four months talking on the phone. We were forced to only let our brains connect and discover if we had a connection before our bodies decided to get involved. I'd never done it this way," she said. "We talked for hours and hours and hours and hours and never got tired. I fell in love with his mind, his conversation. I realized: I really like him. I really liked who he was, and I can't say I felt that way before. I really believe I've found my person. I fell in love with him before I even met him."
If you remember, Berry made history 20-years-ago by becoming the first African-American actress to win the Best Actress Oscar from the Academy. Since then, no other Black actress has taken home the statuette. Berry discusses this heartbreak in her interview as well.
Q. No Black woman has won a best actor Oscar since you did for Monster's Ball 20 years ago — has there been progress toward representation and equity?
Definitely. When I won the Oscar 20 years ago, I didn't see nearly as many faces of color in TV and film as I do now. There has been a 100 percent change.
So while no other Black woman stands next to me [with a best actress Oscar] and it's heartbreaking and I wish there were more, I also know that moment at the Oscars was inspiring and made people believe that anything was possible. Today you've got Ava DuVernay, Lena Waithe, Viola Davis. I can go on and on. Women of color are doing things, and you know what? They're doing things on their own terms, in their way. They're daring to say, "I deserve this."
And I say to them, everybody loves an award. We all love when our industry says, "You did a great job." But most people will never win an Academy Award or an Olympic gold medal or an MMA championship belt. That doesn't mean the fight's not worth it. It doesn't mean you're not winning. You're working in ways you'd never dreamed of before and on projects that are reflective of you or your culture or your gender.'
That Academy Award, as precious as it is, didn't change my career. The script truck didn't back up to my house a week after I won. For the last 20 years, I've still had to work hard and create my own opportunities.
To read Berry's entire interview, click here. Make sure to catch her directorial debut, Bruised, on Netflix. Stay tuned for her upcoming film, Moonfall, out February 4.