NBA legend Kobe Bryant and his 13-year-old daughter Gianna "Gigi" Bryant had a very special bond over their shared love of basketball. Kobe was proud to teach Gianna the sport that gave him so much and Gianna sought to eventually play in the WNBA. Unfortunately, she would not get the chance because on January 26, 2020, Gianna and Kobe, along with Sarah and Payton Chester, Christina Mauser, John, Keri, and Alyssa Altobelli, and pilot Ara Zobayan tragically passed away in a helicopter crash in Calabasas, California. Kobe was 41 when he died and is survived by his wife Vanessa and their remaining three daughters: 17-year-old Natalia, 3-year-old Bianka, and 9-month-old Capri Bryant. With Kobe's posthumous election to the Basketball Hall of Fame, here is a look at five of Kobe and Gianna's sweet father-daughter moments.
1. Kobe breaking down the game to his daughter
On December 21, 2019, Kobe and Gianna sat courtside when the Brooklyn Nets took on the Atlanta Hawks. As they watched the game commence, the father-daughter duo were seen laughing and smiling as Kobe broke down the game of basketball to Gianna. After the game (Nets won 122-112), Kobe and Gianna shook hands with the players. Their cute father-daughter moment also became a popular internet meme.
2. Together at a UConn Game
On March of 2019, Kobe and Gianna attended a University of Connecticut (UConn) women's basketball game and took an adorable selfie together. The father-daughter duo had a strong connection to UConn. Though Kobe himself did not attend UConn (he went to the NBA directly out of high school), he was a major UConn supporter and a good friend of UConn women's basketball coach Geno Auriemma, who spoke at Kobe and Gianna's public memorial service on February 24, 2020. As an aspiring basketball player, Gianna loved UConn's women's basketball program and hoped to eventually play for them. On January 26, 2020, UConn women's basketball released a tweet that said: "Kobe and Gianna meant a lot to our program. Our thoughts are with the Bryant family. Mamba Mentality will live on forever, but they are deeply missed."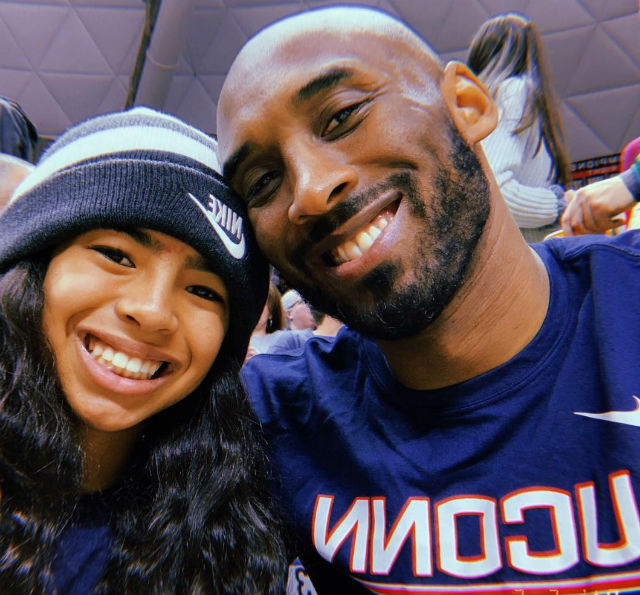 3.  Coaching his daughter
As previously mentioned, Gianna loved playing basketball as her father did and Kobe was happy to pass down his wealth of basketball knowledge to her. Even on January 25, 2020, the day before their untimely deaths, Kobe was seen coaching Gianna and her team at Mamba Sports Academy in the first two games of the Mamba Cup Series in Thousand Oaks, California. Kobe and Gianna's team lost their first game, but won the second. Kobe and Gianna's tragic deaths would come the next day as they headed to the very same facility.
4. Kisses after games
After many of Kobe's games during his legendary NBA career, he could often be seen exchanging cute kisses with his dear daughter Gianna.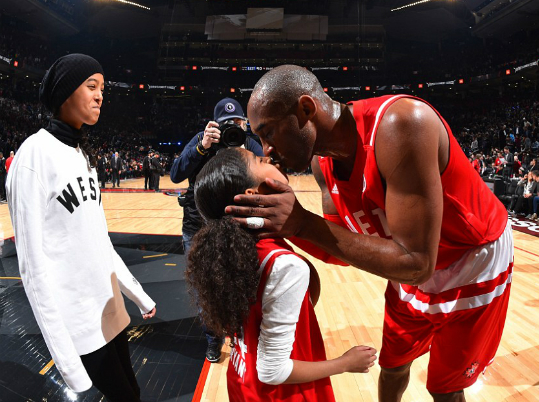 5. Kobe balling with Gianna
In an older video of Kobe and Gianna playing basketball, Gianna was seen practicing her shooting as Kobe defended her. First Gianna bumped Kobe with her shoulder and made a jump shot, and then she proceeded to make another jumper and drove past her father to complete a layup. The father-daughter pair laughed about it afterwards.