Rich The Kid is appreciative of his girlfriend, Tori Brixx, for the amazing job she does as a mother to their son. The celebrity father took to Instagram to praise his "wife" one day after having a very public fight with his girlfriend on social media.
Fans saw all the ugliness that was Rich The Kid's argument with Tori Brixx on Instagram Live. Things began to go South when Tori asked her boyfriend to turn down his music while he was recording his video for fans. Rich replied to his girlfriend's request by telling her to "shut up" and eventually pushing her into another room. "She is annoying as h*ll," Rich told his social media fans.
https://www.instagram.com/p/B4vsKncJIq9/
The aggressiveness coming from the rapper did not go unnoticed by his fans. In fact, dozens criticized Rich The Kid for his handling of Tori Brixx. Some even went so far as to suggest Tori leave Rich before things got worse.
"Run, girl, run," one critic wrote online after seeing the altercation. "Toxic ladies don't stay with someone who clearly doesn't respect you," the follower admonished. Another fan wrote, "If a man speaks to you like this, go away. It is never so deep where he should be disrespectful."
Rich The Kid must have gotten wind of the criticism. The rapper attempted to clear the air with public praise for his girlfriend on Wednesday (December 18).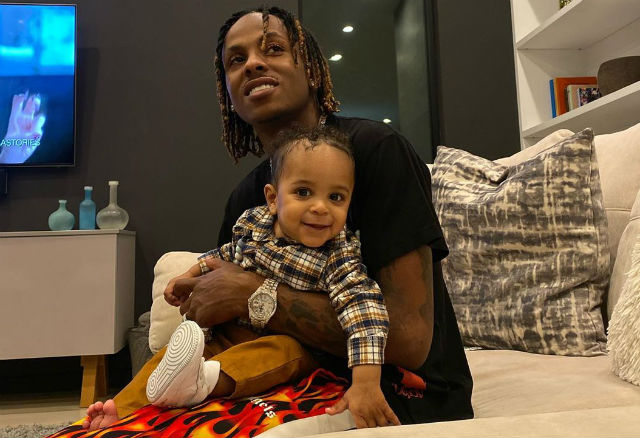 "My life is everything with you and nothing without," Rich The Kid wrote to Tori Brixx. "I love you more than anything on earth," the celebrity father continued. "I want to sincerely apologize for my behavior this weekend," Rich said. "I was either drunk or high but that still does not excuse it. I would never disrespect my wife in any way or any day. I can only treat [her] with [the] utmost respect for being the woman I dreamed of and the best mother to our child."
https://www.instagram.com/p/B6E7PB1AVV_/
Rich The Kid has two kids with his ex-wife, Antonette Willis, who filed for divorce from the rapper last year. Antonette is seeling full physical custody of the children along with spousal support. There is no confirmation of Tori Brixx being Rich The Kid's legal wife, though the rapper referenced her as such in his apology. Stay tuned for more celebrity father news!
Photo: Rich The Kid/Instagram