Stephen Curry and wife Ayesha Curry decided to honor their three kids by getting matching tattoos based on each child's spirit animal.
Ayesha posted the matching tats on Instagram yesterday with the explanation, "He luhhhhh matching my swag (***these are our babies signs we have for them) . Each has a deeper meaning and representation to us. Canon will always be our young wolf. Ryan our butterfly (this one makes me cry with joy just thinking about it) and Riley our horse (free spirited , which we turned into a unicorn because she's our magical first born). Thank you again to @winterstone !!!"
"Got my kids wherever i go," Steph added in an Instastory post.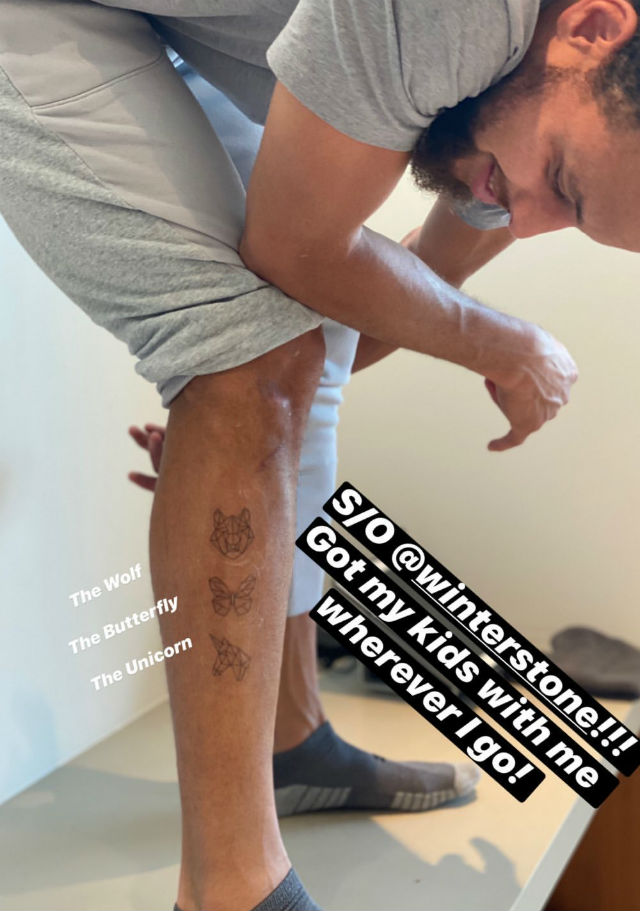 Steph can also take his kids wherever he goes with his "Curry 7 UNDRTD" shoes, which have a pull tabs with three characters meant to represent each of Curry's children.
"My favorite part of the shoe — on the back there's a pull tab and it has monikers of my three kids. From my oldest, the horse, to my middle child is our butterfly, and then the son bringing up the rear — we call him young wolf," Curry shared with Bleacher Report's "Unboxed" series in October.
Interestingly enough, all of the Curry children have the same zodiac signs as they were all born in July: daughters Riley (b. July 19, 2012) and Ryan (b. July 10, 2015) and son Canon (b. July 2, 2018).