Erica Mena is rocking her baby bump! The pregnant star recently shared pictures of herself wearing outfits fit for a night out in the town. Also, Safaree stops by The Real! Read on for all the details!
"Me and God just playing 'Simon Says,'" Erica shared along with a picture of herself posing in a dress that hugged all of her curves. Erica also shared a candid of her shoes, which were turquoise heels that were nothing short of fashionable.
"I can't believe you can still wear heels and haven't had any swelling in your feet," one fan exclaimed after seeing the picture of Erica Mena's feet in her heels. "You have slain your entire pregnancy," the social media follower added. Another fan asked, "How do your feet still look so good? I'm jealous."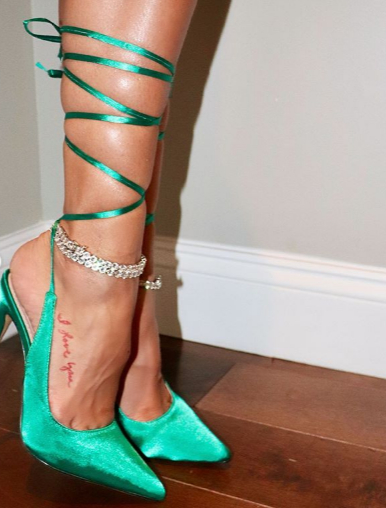 Erica Mena is expecting her and husband Safaree's daughter to arrive in the coming weeks. Safaree recently stopped by The Real to talk about the scandal that surrounded provocative photos of himself hitting the Internet last year.
"Having a daughter, I'd hope that she wouldn't go and Google my name one day and then see a picture of my meat hanging out," Safaree revealed when asked if there was anything he would do differently in life now that he is going to be a father. "If there was something that I could take back, [that would be it]," the father-to-be shared.
Safaree went on to reveal that he wasn't actually responsible for pictures showing his "meat" reaching the public's sphere. "I didn't do it," the LHHH star declared. "That's one thing you all need to know," Safaree added. "It wasn't me," he declared. "I took [the picture], but I really don't know how it got out. It was leaked."
How will Safaree explain his photo scandal to his daughter should she ever decide to do a bit of research on her father in the coming years? We will have to keep watching the Love and Hip Hop: Hollywood star and his wife to find out!
Photo: Erica Mena/Instagram