Basketball Wives star Evelyn Lozada and her kids, Shaniece Hairston and Carl Leo Crawford, were all about sports earlier this week. The celebrity mom and her children took in a game at the Staples Center in Downtown Los Angeles. Evelyn and her daughter were definitely fashionistas.
Many Instagram fans loved the Basketball Wives star's boots. Shaniece's footwear was equally stylish with the young adult's boots reaching her knees. The mother-daughter duo's jeans were also the subject of discussion online. "What brand," one fan asked.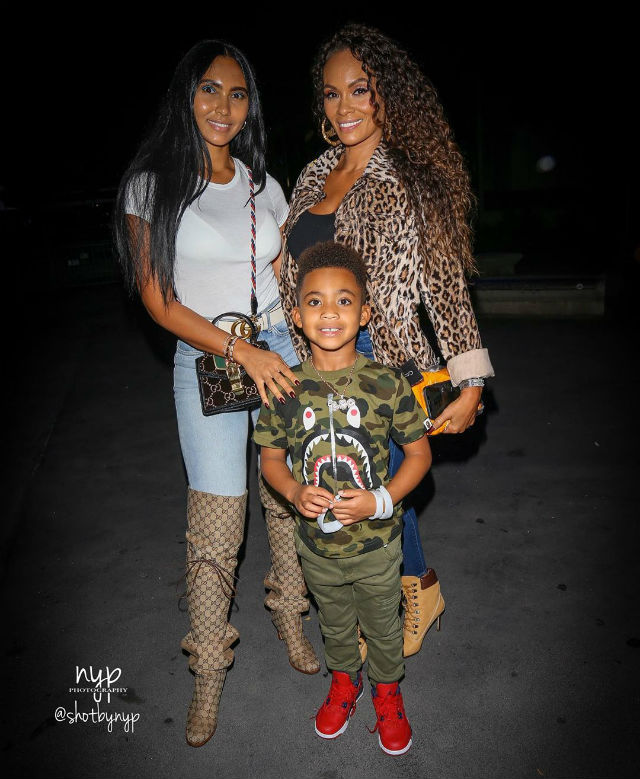 Of course, Carl Leo was fashionable in his own right as well. The youngster rocked casual wear to the game with Carl Leo's shoes being the highlight of his outfit.
Evelyn Lozada continues to have conflicts with a few of her Basketball Wives co-stars. In fact, the celebrity mom is presently embroiled in a legal battle after Ogom "OG" Chijindu accused her of being a racist last month. OG alleges that Evelyn used an encrypted message to insinuate that she, an African-American woman, was a monkey. "And there it is," Chijindu wrote online after seeing the controversial Instagram post. "Show your true colors, you racist bigot."
Evelyn responded to Chijindu's claims with a post in which she vehemently denounced Chijindu's accusations. "Last time I looked in the mirror I was a woman of color—a proud Afro Latina who over a year ago took the time to really dive into her roots," Evelyn wrote online. "Identifying as Afro Latina is about ethnicity, not color as our skin tones are diverse as the diaspora," the Basketball Wives star explained. "I am a woman who has to more often than not, navigated through the unchartered waters of 'real-life' discrimination and am raising children that I will have to prepare to do the same."
In addition to leaving her note online, Evelyn Lozada filed a lawsuit with the court that accused OG Chijindu of defaming her character. Lozada claims to have lost several endorsement deals behind her co-star's public accusation of bigotry. Stay tuned for more Basketball Wives news!
Photos: Shot by NYP/ Stan Potts