R. Kelly has broken his social media silence for the first time in nearly three months. On Tuesday, Kelly returned to Instagram and Twitter to wish his estranged daughter, Joann Kelly, a happy 21st birthday.
https://www.instagram.com/p/BvN1xdlHXUe/
In his first post since Jan. 1, Kelly sings and tells his daughter, "Happy Birthday, baby. Daddy loves you. I love you, no matter what, I love you so much." He ended the video by blowing a kiss to first born.
R. Kelly's eldest child, Joann Lee Kelly, who goes by the stage name Buku Abi, took to social media in January following the airing of Lifetime's documentary, Surviving R. Kelly. In a lengthy Instagram post, the aspiring singer explained that she and her siblings have not spoken to their dad in years. "It has been years since my siblings and I have seen or have spoken to him," she wrote.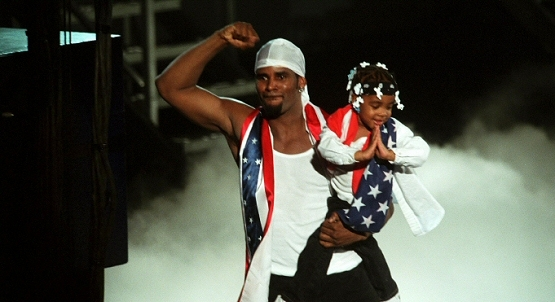 Joann also apologized to the alleged victims of her father. "My mother, siblings and i would never condone, support or be apart of anything negative that he has done and or continue to do in his life," she wrote.
Adding, "The same monster you all confronting me about is my father. I am well aware of who and what he is. I grew up in that house. My choice to not speak on him and what he does is for my peace of mind."
Earlier this month, the R. Kelly was arrested for alleged sexual abuse of several women and for not paying child support.
Kelly has two other kids — Jay, 19, and Robert, 17 — with his ex-wife, Andrea Lee.