Naomi Wadler made her presence known during the March for Our Lives event this past weekend. The 11-year-old stood strong and confidently as she discussed gun violence and the need for reform in the United States.
Naomi's speech was only three minutes and thirty seconds, but the words were so powerful that the tween could not read it straight through. Rounds of applause were given at various parts of the small message during the march, and celebrities later noted the strength found in Wadler's speech about unity and empowering women along with girls.
"My speech might not have caused a giant impact on society, but I do hope all the black girls and women realize there's a growing value for them," the youngster shared with media after this weekend's event.
"I am here to acknowledge and represent the African American girls whose stories don't make the front page of every national newspaper, whose stories don't lead on the evening news," Naomi continued. "I represent the African American women who are victims of gun violence, who are simply statistics instead of vibrant, beautiful girls full of potential."
Wadler was moved to act after learning that a friend of her mother's had a child whose life was cut short by the Parkland shooting several weeks back. It was not enough for the 11-year-old to offer prayers and well wishes to the victims.
"I tend to be a pretty catastrophic thinker when it comes to these things," Naomi admitted. "I think, 'Oh my God, I'm going to die, am I going to die?' I need [a] lifesaving serum."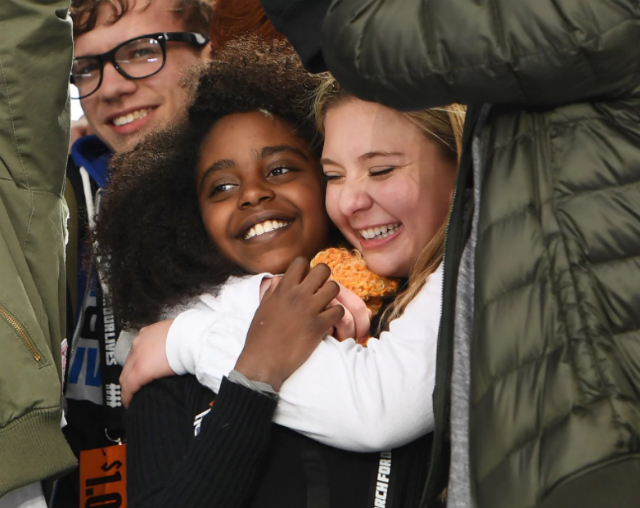 What Naomi calls "catastrophic" thinking is viewed by the masses as being conscious of the events taking place in the country. "She's an aware kid," Wadler's mom told media. "She wants to know why on the news they identify black people as black, and not white people as white. She wants to know why Trayvon Martin was shot. She wants to know why Philando Castile was shot. Her father is black, and she wants to know, does she have to worry about him being stopped and killed?"
Naomi Wadler is putting her young voice to good use in standing with the Parkland shooting victims as they call for more stringent gun laws. You can learn more about the March for Our Lives movement here!
Photo: The Washington Post