The CEO of the famous Bratz dolls, Isaac Larian, is not willing to let Toys R Us go without a fight. The billionaire launched a crowdfunding program that asks the general public to donate to the cause of rescuing the toy store giant from its financial turmoil earlier this week.
Isaac did not come to the public for help without first giving of his resources and asking a few of his wealthy friends to do the same. Larian and his network managed to raise $200 million to hopefully acquire Toys R Us for $1 billion. Larian and his partners hope to get the remaining $800 million from others willing to contribute to the #SaveToysRUs movement.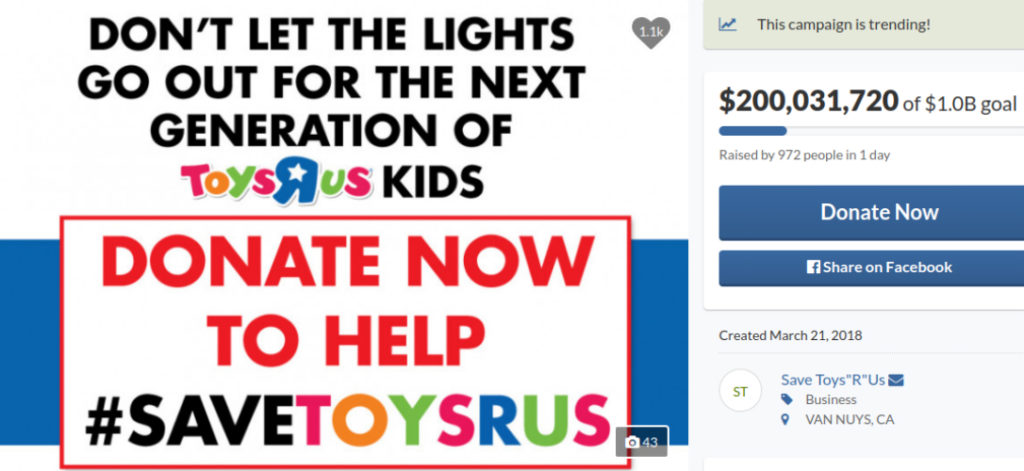 "$1 billion may seem like a staggering goal, but it would take a very large sum to create a successful bid for the acquisition of such a large entity," Larian tells potential givers. "Children need a place to play," he added. "I can't imagine a world where that doesn't exist anymore."
Toys R Us has become more than a mere toy store brand over the years. The retailer served as an indoor playground for many kids. A trip to Toys R Us was a weekend event for many millennials growing up in the 1990s. Now, the children of such generation may not have the pleasure of experiencing such happiness due to the retail giant's financial woes.
According to Toys R Us' bankruptcy filing documents, more than $7 billion is owed to upwards of 100,000 creditors including Mattel, Lego, and Crayola. The public became aware of the retailer's fiscal problems a few years ago. The majority, however, did not understand the severity of such issues.
Still, even with excessive debt, Isaac Larian believes that Toys R Us is worth saving. "There is no toy business without Toys R Us," he tells The Washington Post. "It's a big deal, and I'm going to try to salvage as much of it as possible."
Learn more about the #SaveToysRUs campaign, and donate to the cause, here!