Introducing Sir and Rumi Carter! Beyonce took to Instagram on Friday morning, Thursday night on the West Coast, to debut her newborn twins.
"Sir Carter and Rumi 1 month today," the star mom wrote. Beyonce also shared a picture of her holding the twins that some are comparing with Botticelli's Venus. More than six million followers have liked the debut post so far, which is in line with Bey's pregnancy announcement that broke the Internet in February.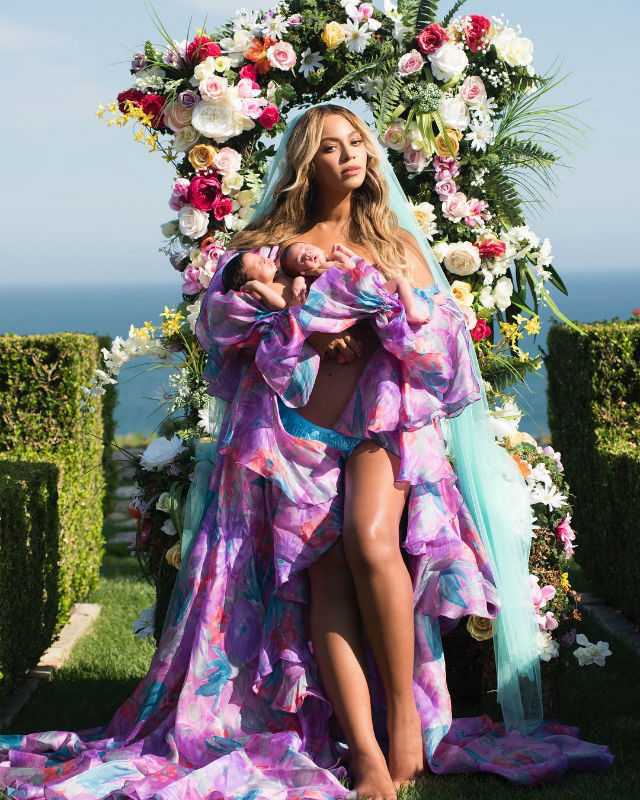 Bey wrote a simple note and shared a picture of herself cradling her bump several months back that grabbed the attention of more than 11 million viewers. Reports say that upwards of 500,000 likes for Bey's pregnancy announcement came within the first 30 minutes of the post going live. Of course, Bey's photo that debuted her twins on Friday morning had remnants of the candid that accompanied her pregnancy announcement. How's that for coordination?
News of Beyonce and husband Jay-Z welcoming their twins began to spread the week of June 11, 2017. Many took guesses on when Sir and Rumi were born but Summer Chamblin, daughter of June Ambrose, spilled the tea with an Instagram post that expressed excitement over the twins sharing her birth date, which is June 13, 2017, on Friday. "Welcome to the world Rumi and Sir Carter," Summer wrote. "I love that you came into the world on the same day I did."
Rumi and Sir are Jay-Z and Beyonce's second and third child. The couple's oldest daughter, Blue Ivy Carter, celebrated her fifth birthday in January.