Last week was one of celebration for Kevin Hart and the family. The comedian was the recipient of a mural in his hometown of Philadelphia.
Around 350 residents came to Germantown and Erie Avenue last Thursday (July 6) to commemorate Kevin's 38th birthday and see the big unveiling of his mural near his childhood home. Hart's son, Hendrix, joined others in congratulating Kevin on receiving such a prestigious honor.
"There was a point in my life where I needed people to buy me cheesesteaks at Max's," Kevin told the crowd. "Now when I go to Max's my face is on the side of the building, which is unbelievable," he shared. "This is the biggest honor that I have gotten in my career to date. I truly do believe that Philadelphia has made me into the man that I am today."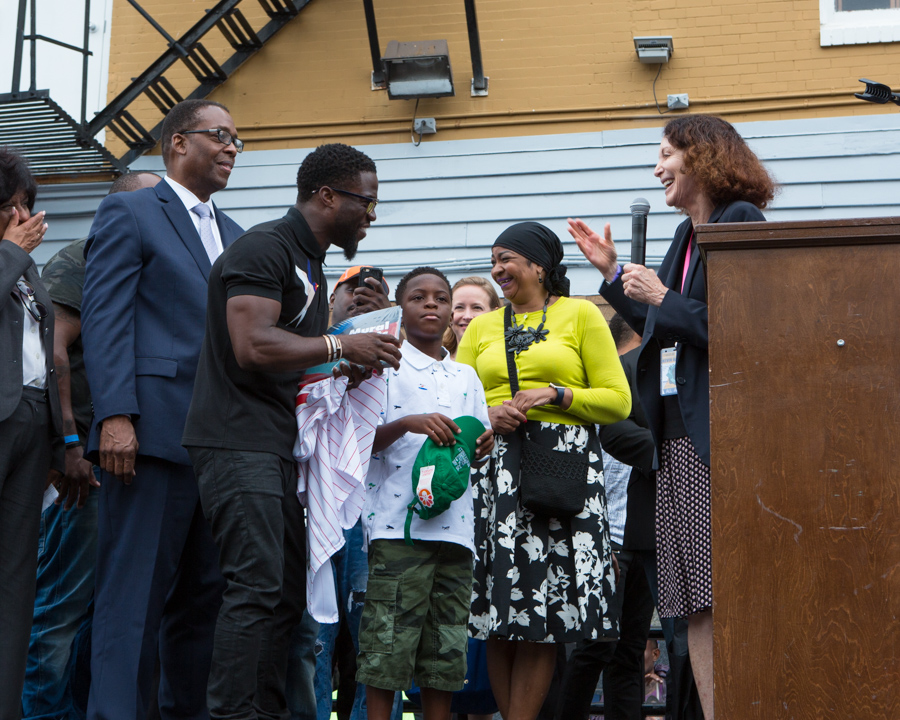 The man that Kevin is today is a celebrated comedian in Hollywood, husband, and soon-to-be father of three kids. Kevin and Eniko announced the expectancy of their first child together in May. "Celebrating Mother's Day with my beautiful wife," Kevin wrote online. "We are laughing at the fact that this time next year we will be celebrating her 1st actual Mother's Day," he shared.
Eniko Parrish and Kevin Hart are in the second trimester of expectancy and already have a babysitter, Torrei Hart, lined up. Stay tuned for more Kevin Hart baby news!
Photo:  muralarts.org