It was "Nacho Average Bridal Shower" celebration as Serena Williams celebrated her impending wedding day to fiance Alexis Ohanian last Friday. Family and friends shared details about the event exclusively with PEOPLE.
"The shower really reflected Serena's girlie and detail-oriented personality," Val Vogt of VLV Group reveals. Serena's bridal shower was a weekend-long celebration held at the 1 Hotel and Homes South Beach in Florida. "There were lots of surprises for her throughout the weekend," Vogt shares. Williams' longtime friend Lara Shriftman affirms by saying, "It was a really magical weekend with a lot of love for Serena."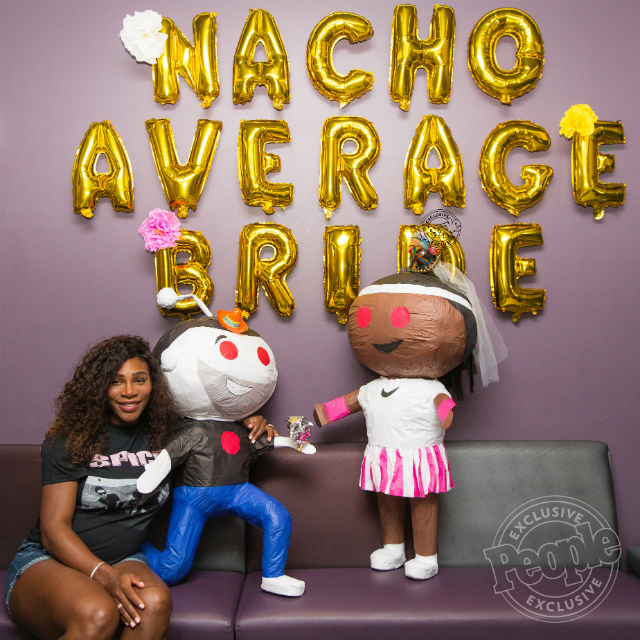 Serena Williams and Alexis Ohanian are expecting their first child to arrive this fall. The bride-to-be accidentally shared news of her expectancy with the public a few weeks back and fans have been thrilled ever since.
Many were shocked to learn that Serena was pregnant while delivering a stellar performance at this year's Australian Open. YouTube sensation KevOnStage was one of many to shed light on the tennis star's incredible performance. "She didn't drop a set," he told fans. "She didn't drop a set and she won [while] pregnant."
Serena is definitely taking time for herself now that the news is out and the baby's due date is nearing. Pampering was the theme of this past weekend's events as Serena and her sister, Venus Williams, joined others in residing in "The Wellness Hotel" and taking a relaxing cruise around Miami on a private yacht.
Stay tuned for more details about Serena Williams and Alexis Ohanian's expectancy!
Photo: PEOPLE