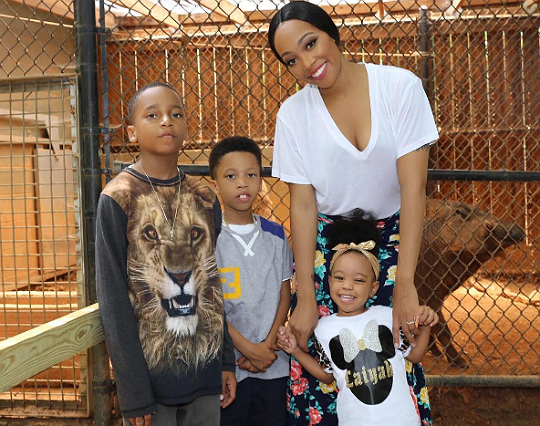 Monica Brown and the kids had an adventurous time at the zoo earlier this week. The singer and her daughter, Laiyah, joined Rodney and Romelo on a class trip to the park.
Laiyah was the fashionable one who wore shoes that bore her name. The outfit was definitely custom-made as her shirt also featured her name and a similar design. Laiyah was photographed while showing off her cute shirt. "Thank you @ms_takia_customs for this adorable ensemble Laiyah is wearing," Monica wrote. "She looooves her top & shoes… She's not hesitating to strike a pose."
https://www.instagram.com/p/BFmMMQCTaQw/?amp%3Bhl=en
The celebrity mom also took pictures and video footage of the family's adventure at the zoo. One clip showed Romelo staring at one of the animals before receiving instructions on how to feed them.
https://www.instagram.com/p/BFmK0ZrzadD/?amp%3Bhl=en
Monica often shares the joys of parenthood with Instagram fans that include quality time spent with her little ones. "My top family values are valuing things of true value and those are the things that can't be bought," she shared during a recent interview with Uptown magazine. "My children come first, so balancing has become very easy for me — maybe not as much for those that work with and for me — but I don't mind sacrificing work because the moments missed in a child's life you can never get back."
Monica and husband Shannon Brown have one child, Laiyah, together. Rodney and Romelo are Monica's kids from a previous relationship.