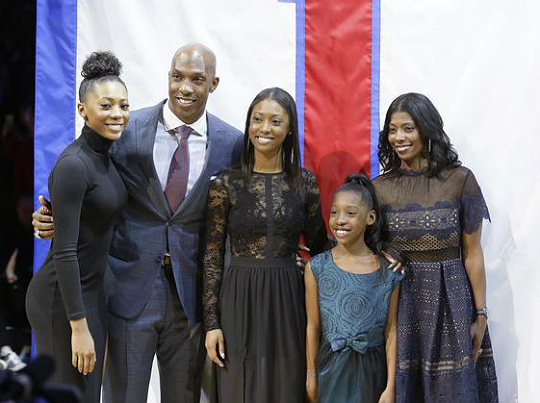 Chauncey Billups and his family stood and watched with pride as his jersey was hoisted into the rafters at The Palace of Auburn Hills in Michigan on Wednesday night. The former NBA star was the man of the hour as the entire evening was dedicated to him and his accomplishments on the court.
"Had I won a championship had the same success? Maybe not," Chauncey shared with media. "Everything is timing," he added, "not only this (basketball), but in the world."
Billups played for a number of teams during his basketball career that spanned nearly twenty years. The star athlete had spouts with the Los Angeles Clippers and Detroit Pistons before returning to, and retiring with, the Denver Nuggets in 2014.
"It's humbling, but it's something that I'm going to enjoy," Chauncey said of his jersey number being retired. "That my kids could be here and enjoy it – my youngest was so young, she didn't really get to enjoy a lot of my career."
He further explained, "That's all I wanted, was to be a champion. Not an MVP or All Star. Especially coming from what I went through in this league. I focused in on my career and did what I could. I never shot for that. It was never a goal of mine. I just wanted to be the best that I could be."
Chauncey and wife Piper Billups parent three daughters -Cydney, Cenaiya, and Ciara – together. The former NBA player began his professional trails in basketball in 1997.
Photo: Denver Post