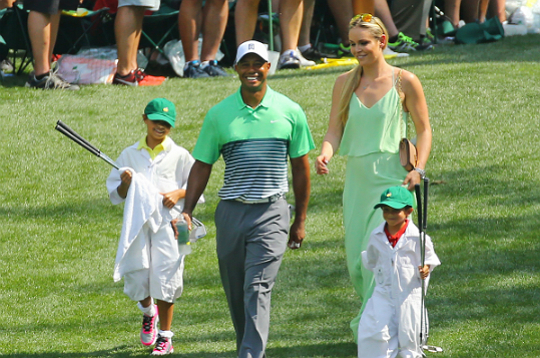 Tiger Woods has built a legacy doing the sport he loves, but nothing compares to quality time spent with his kids. The professional golfer tells Time that children are most important.
"My kids are more important to me than anything else in the world," says Woods. "To watch my kids and play sports and to grow up and participate, and even teach them how to become better, oh my God, it gives me so much joy."
Tiger has suffered a number of injuries during his longstanding career as a golfer. He recently underwent a procedure to repair a nerve that was damaged while playing the game and now lives with the possibility of having to retire early. "It's tough as athletes, when you just don't know," shares the star. "The most important thing, though, is that I get to have a life with my kids. That's more important than golf. I've come to realize that now."
Tiger has also realized the joys of co-parenting. "We're like best friends," the star says of his and ex-wife Elin Nordegren's relationship. "She talks to me about her life, I talk to her about my life. We try and help each other out on all occasions. And we work through it with the kids, the parenting program. She is one of my best friends now, and it's all because of my kids. We've worked so hard, and I've shown her how much I love them. We've worked so hard at co-parenting, to make sure that their lives are fantastic."
Tiger and Elin were married for more than five years before divorcing in 2010. They are the proud parents of a son, Charlie, and daughter named Sam.