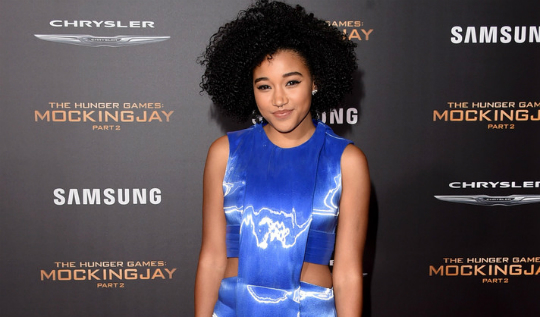 Amandla Stenberg was one among a number of stars to attend the Los Angeles premiere of The Hunger Games: Mockingjay – Part 2 on Monday night. The event was held at the Microsoft Theater and featured Amandla in a beautiful blue dress that was truly unique.
Stenberg's outfit could have been classified as a two piece as her midsection was revealed in between her top and skirt. A piece of fabric covered a portion of the actress' stomach and served as the connection between her top and skirt.
The Hunger Games: Mockingjay – Part 2 is the latest installment in the Hunger Games franchise. The film features Jennifer Lawrence as Katniss Everdeen who is a warrior and hero among her people. The young adult will learn to spread her wings in this segment of the story as she endeavors to save her good friend Peeta (Josh Hutcherson) and lead the way in a world that no longer practices the hunger games.
Amandla Stenberg starred in the first Hunger Games film as Rue. The young star received much fame from her role and has used such stardom in a positive manner ever since.
Mockingjay – Part 2 makes its public debut on Friday, November 20, 2015. See the movie's trailer below!
Photo: Getty Images