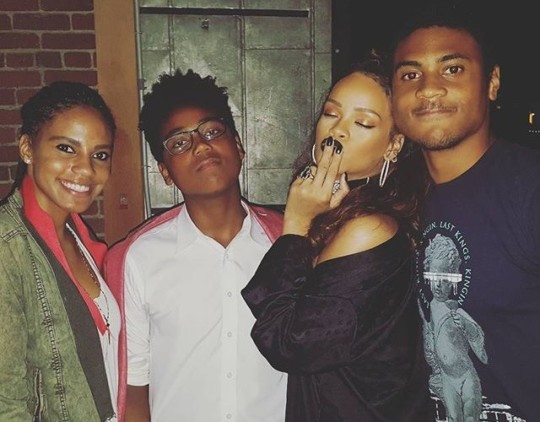 Holly Robinson-Peete has got to be the coolest mom ever. The actress took three of her children to Rihanna's album cover viewing in Los Angeles on Wednesday.
One of the pictures that Holly took during the event featured Rihanna posing with the kids. Ryan, Rodney and Robinson surrounded the Pop star as she sent kisses the camera's way. "Thank you @badgalriri @mdollas11 for ALWAYS being so lovely," Holly wrote on Instagram.
The singer's album cover is pure art with the image of Rihanna when she was a little girl holding a black balloon and wearing a gold crown. The crown covers a young Rihanna's eyes and the message on the cover is written in braille. The singer's upcoming album will be called ANTI, and is expected to be released in coming weeks. Holly Robinson-Peete has four kids with husband Rodney Peete.
https://instagram.com/p/8lNto6kNpv/?taken-by=hollyrpeete